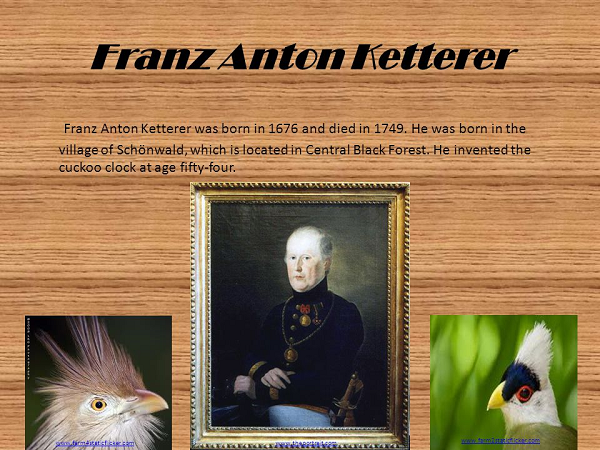 Visual Description:  Going Cuckoo!
FOVRA  =  FAVOR,  SERTC  =  CREST,  MDOONI  =  DOMINO,  CDRUEE  =  REDUCE   —   Giving us:  FORCSTMIOEUE
Clue/Question:  The clockmaker's apprentice would learn to build quality clocks over the – – –
Answer:  COURSE OF TIME
(But of course!  The clockmaker is giving a master class, and his student will learn the craft, through on-the-job training . . . over time.  That is the best way to learn a trade, or any job for that matter.  That's kind of how I built a 24 year career in institutional banking.  I graduated college with a degree in Fine Arts!  I didn't have a single Accounting, or Finance class.  I did take one Economics class, but the instructor spoke with this mono-tonal voice and a thick Hungarian accent.  I didn't know what the heck he was saying half of the time . . . at least.  Most of banking is just common sense anyway.
All of today's clue words are already encased in the ralis95 clue word database.  Three of the jumbles were up to the minute additions.  Only "sertc" was one that we have surely seen before.  It took me a few looks to see "domino".  The answer letter layout was a towering twelve letter jumble.  Brilliantly cryptic!
I liked the period piece cartoon.  This could be Franz Anton Ketterer, largely credited for creating the first cuckoo clock around 1730.  Although, the haircuts kind of suggest an earlier era.  Artistic license!  Be well and do good, friends.)   —   YUR
Images courtesy of Google
Happy – "Epic" – birthday to Mike Bordin, of Faith No More!