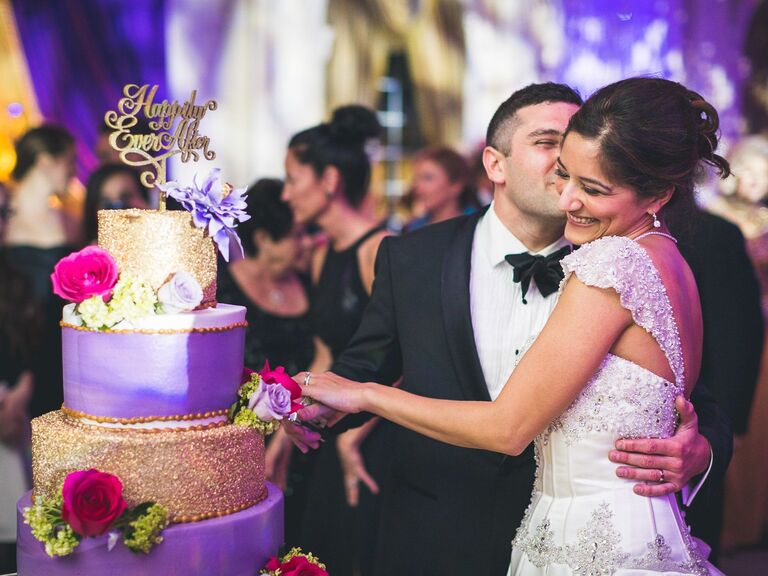 Visual Description:  Highlight of the reception.
MAFYO  =  FOAMY,  EEZSI  =  SEIZE,  TOONNI  =  NOTION,  MIGATB  =  GAMBIT   —   Giving us:  OAMSEENTNGMIT
Clue/Question:  The wedding cake looked delicious and would be eaten – – –
Answer:  "INGEST" A MOMENT
(Ooh!  This was a sneaky, stinky pun!  Especially, if you spelled SEIZE wrong, like I did.  Can we – somehow –  vote to get rid of that STUPID "I Before E Except After C" rule???  I mean, I've always been aware of the exceptions, but why did some numb-nuts come up with this as a grammatical "rule" in the first place???
None of today's clue words are new.  However, three of the jumbles are coming up as new.  We've definitely seen "mafyo" sometime in the past.  I got them all immediately this morning.  The answer letter layout was a very impressive thirteen letter jumble.  I thought it hid the final answer brilliantly.  Because I'm a rocket scientist – NOT – I saw that the middle word was A.  Then, I did figure that the third word was MOMENT.  But, because of SIEZE – groan – I was left with SINGIT.  Now, in Tagalog SINGIT means CROTCH, but In English you can only come up with SITING, and SITING A MOMENT did not seem to make much sense, considering the context of the clue/question.  So, I took a second look at the clue words, and saw that I had seized an erroneous answer.  By the by, I think that INGEST is a beautiful pun for IN JUST.  Kudos to whoever – Hoyt? – came up with it.  Sometimes these puns are suggested by the readers.

Very nice wedding reception cartoon.  Great cake and cake cutter.  The bride and groom look radiant!  They appear to be "Latinx", so congrats on the diversity, Jeff!  I'd say this was a fairly tough solve, especially for a Wednesday.  Be well and do good, friends.)   —   YUR
Images courtesy of Google, flickr, and TheKnot