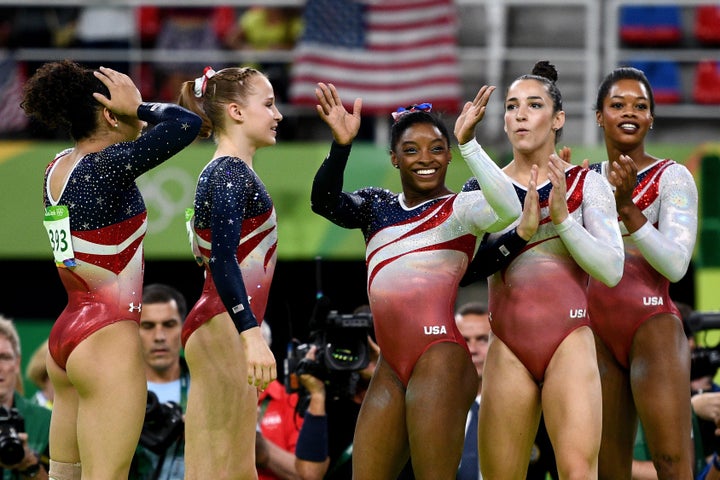 Visual Description:  Jumping for joy!
KEPYR  =  PERKY,  OTAIP  =  PATIO,  MIFYAL  =  FAMILY,  UTPADE  =  UPDATE   —   Giving us:  PEPTOFILUD
Clue/Question:  When the gymnastics team won the competition, they – – –
Answer:  FLIPPED OUT
(Ya know . . .  this could have – just as easily – applied to a men's gymnastic team.  Are we seeing another form of blatant sexism in our male dominated society?  Should we shame Hoyt and Knurek for not acknowledging the abuses that so many girls have suffered at the hands of the USA Gymnastics team doctor?  Maybe we should look into any "raunchy talk" our guys may have used 30 years ago!  Stop the world!  Yer uncle really wants to get off!  Or, maybe I should say step off, because "get off" could be construed as something sexual.  We have so many double standards in our society, that it should make all our heads spin.  Obesity in America is the #1 health threat.  Ooh, but don't you dare body-shame anybody!  Kids today totally lack discipline  Ooh, but don't you dare spank them!  Advertisers sell us a slew of products with sex, while  music videos and other popular media show girls/women bending over, twerking and pelvic thrusting, all while scantily cladded.   Ooh, but don't you dare say she looks good in that sweater!  Really?  Can we just get a hold of ourselves?  Let's at least acknowledge the notion of cause and effect here, folks.  Living our lives, constantly worried about maybe possibly offending someone, with something that we say or do, is no way to live.  How about we all strive to develop thicker skins?  When my Filipina mother-in-law said:  Ooh, Nazi! when I told her half my heritage was German, I didn't demand an apology from her.  I just laughed, and explained to her that the words/people were not synonymous.  Let's stop looking for fault all the time.  Rick Warren said:  "The blame game is a waste of time. Any time you're busy fixing blame, you're wasting energy and not fixing the problem."  Take a breath, people.
All new jumbles once again today!  I saw all the words immediately, though.  The answer letter layout was also a nifty jumble.  Not obvious.  The girl in the foreground of Jeff's cartoon told the whole story!  Be well and do good, friends.)   —   YUR
Images courtesy of Google