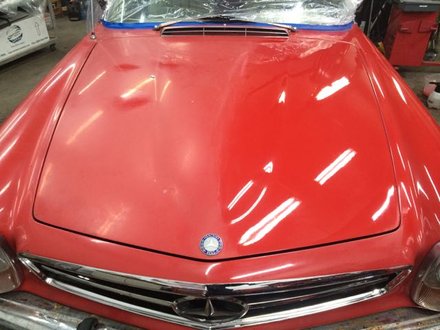 Visual Description:  Not exactly . . . the magic touch!
SUTJO  =  JOUST,  ALYLR  =  RALLY,  KTHESC  =  SKETCH,  MEBANO  =  BEMOAN   —   Giving us:  JUTRLLSKCBEOA
Clue/Question:  His son washed and waxed his car but did a – – –
Answer:  LACKLUSTER JOB
(But a BRILLIANT Jumble pun!  Kids today – okay, maybe every generation – learn that if you do a poor job of something, you'll be less likely asked to ever do that task again.  For many kids, they will only do a good job of something that they really enjoy doing.  When it doesn't interest them, or they'd rather be playing video games – or some damn thing – they're not going to give it 100%.  You'd be lucky to get a 70% effort out of them.  Hopefully, they don't carry this habit into their adult workforce.
Not surprisingly, all of today's clue words are already on the ralis95 clue word database.  Three of today's jumbles are coming up as new.  But it turns out we've seen "kthesc" before.  None of them stumped me, though "bemoan" is probably not the most common word.  The answer letter layout was a tremendous thirteen letter jumble.  Nicely cryptic!  The second word of the final answer slots just screamed out JOB.  After checking off those letters it was easy to see that his effort LACKed LUSTER.
Fine father and son cartoon of an attempt at waxing the Jumblemobile.  I loved the turtle on the can of wax!  If our dynamic duo – Hoyt and Knurek – take the Jumblemobile for a spin, which one typically drives, and which one rides shotgun?  Hmm.  Be well and do good, friends.)   —   YUR
Images courtesy of Google
Happy birthday to Sonny Turner of The Platters!