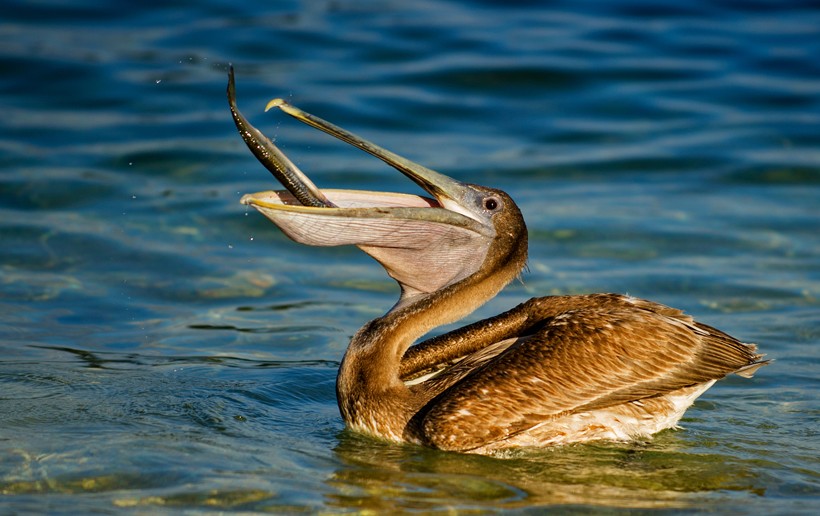 Visual Description:  Birds of a feather . . . nosh together.
ULDFI  =  FLUID,  RBUTL  =  BLURT,  LNEEFN  =  FENNEL,  ZLRAID  =  LIZARD   —   Giving us:  FLIBLELLID
Clue/question:  The tunas and barracudas were too large for the pelican, but herring – – –
Answer:  FILLED THE BILL
(Pelicans are fun to watch.  They are a pretty social bird.  We used to watch them back in the day, when the wife and I would winter down on Sanibel Island, off the Gulf coast of Florida.  Actually, we'd only spend a week or so, and the place where we stayed was on the mainland, in Bonita Springs.  It was a friend of my Mom's condo, so all we had to pay for was airfare.  But we'd take day trips to Sanibel, and eat there.  And, we'd also drive around Naples.  That's a cool town.  I think a lot of fat-cats live there.
All of today's clue words are familiar old friends.  But all of their jumbles appear to be new!  A little bird has told me that yesterday's "new" clue word – HUMBLY – was actually used in a previous Sunday Jumble, back on 09/04/16.  But, I'll shoot ralis95 an email too.  None of the jumbles stumped me this morning.  The answer letter layout was a taut ten letter jumble.  But with all the L's and the two I's it was a quick solve.  Plus the cartoon reminded me of:  "A wonderful bird is the pelican.  His bill can hold more than his belican.  He can take in his beak . . . Food enough for a week.  But I'm damned if I see how the helican!"  That was one of my Mom's favorite poem/rhymes!
Excellent cartoon!  Love the fish.  Love the pelicans!  Hate the tire that some jerk threw in the water!  What's wrong with people???  And, of course I love the classic sinking sailboat on the horizon!  Fun Jumble.  Be well and do good, friends.)   —   YUR
Images courtesy of Google
Happy birthdays to Bengt Lagerberg of The Cardigans, and to Marc Cohn!