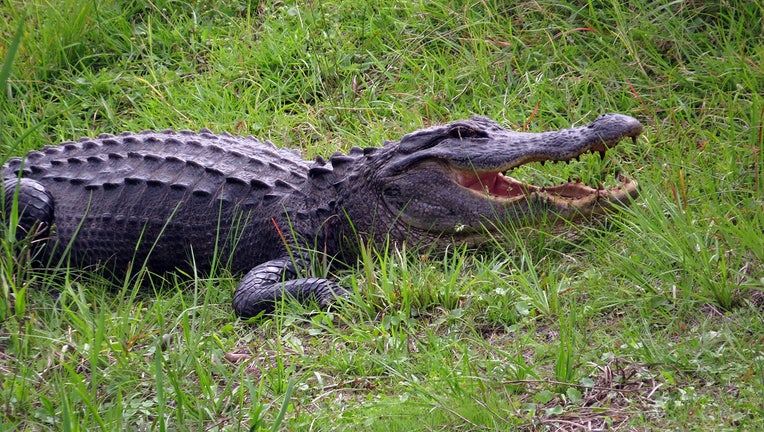 Visual Description:  Didn't I say:  See you later?
CAHLT  =  LATCH,  MPRIC  =  CRIMP,  LYDAGL  =  GLADLY,  DOSETD  =  ODDEST   —   Giving us:  ATRIGLAOT
Clue/Question:  The Everglades reptile that was following too close was a – – –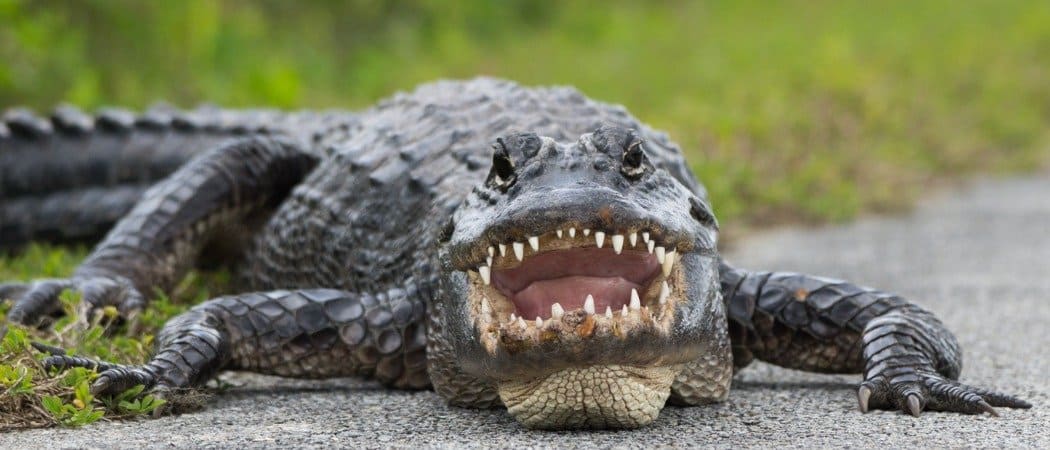 Answer:  "TAIL–GATOR"
(That trailing gator must have a little dog in him!  I hope he didn't get a hold of one of Jeff's!  LOL!  Dogs always have their noses in other dogs' tails.  I was talking to a couple of Jehovah's Witnesses yesterday outside my vet's office.  Very attractive women.  And, one of them brought up that she read that dogs have many millions of scent receptors in their noses, while humans have a mere 400.  Put a dog and a human, blind-folded, in front of a bowl of stew, and the human might be able to recognize that it's stew.  But the dog can recognize the individual ingredients.  Apparently, gators have a good sense of smell too, but more for things like rotting carcasses and blood.
I think David L. Hoyt has given up on trying to give us new clue words.  And, he's purposely avoiding any of the words that could be taken as "offensive", by some, even if they also have a benign meaning as well.  The first three jumbles are coming up as new, for me.  But we've definitely seen "dosetd" in the past.  The answer letter layout was a divine nine letter jumble.  I thought it was very carefully cryptic.  Dancing around the word alligator, the great cartoon of one gator's tail on the other's face, and the hyphen and quotation marks, all made for a quick solve though.
Wonderful cartoon of the alligators in their natural habitat.  I remember years ago, when I was down in south Florida, I so badly wanted to see at least one in the wild.  You know, either on the side of the road, or on one of the numerous golf courses.  We even drove a number of miles into the Everglades, supposedly on the way to an Indian casino, but did not see a single gator!  I finally saw a bunch of them . . . in a zoo in Naples!  Not as satisfying, but at least I got to see some live ones, up close.  Be well and do good, friends.)   —   YUR
Images courtesy of Google