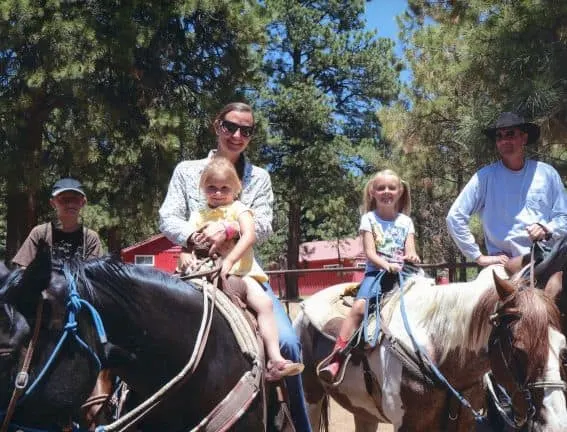 Visual Description:  Tender foots(?) at a dude ranch.
VOTEMI  =  MOTIVE,  SUFINO  =  FUSION,  LTUCPS  =  SCULPT,  NOCICI  =  ICONIC,  CACURE  =  ACCRUE,  DOLUME  =  MODULE   —   Giving us:  MTEFIOUTONIAREMD
Clue/Question:  After two hours on horseback, they were done.  Two hours was just the – – –
Pre-Answer:  Four Words  "(4-letters)"  (6-letters)  (2-letters)  (4-letters)
Answer:  "RIDE" AMOUNT OF TIME
(With a carefully placed hyphen, this could easily have been a double pun.  Instead of just being a pun on right, with "ride", they could have used a-mount, to make it a double horse pun.  With puns being – purportedly – one of the lowest forms of humor, why not go all in?  Two riders, two horses, why not two puns?  Seeing as how Hoyt is the relative rookie here at the Jumble – LOL – I guess we'll just have to give him a pass.  But you better shape up, cuz.  Rumor has it that Jeff has approached Stephan Pastis about replacing you.  Don't you just love rumors???  Especially the ones started by Yer Uncle Rave???  LOL!
There were no new clue words today, although SPOOK is still available.  I'm wondering now if Hoyt is trying to avoid any word that might be considered politically incorrect.  I just checked, and CHINK is also not on the ralis95 clue word database.  But strangely enough SLANT is!  Maybe, that particular word pre-dates Hoyt's tenure with the Jumble?  I don't know.  I did notice that SPADE also hasn't been used.  But just because a handful of common/everyday words have been used as racial slurs, at one time or another, is it wise to ignore/exclude them?  Shouldn't the legitimate usage outweigh the slang?  I'd like to think that intellect should prevail over emotion, but apparently I'm in the minority in these matters.  But I digress.  Half of the jumbles are coming up as new for me.  However, we have definitely seen "votemi", "cacure" and "dolume" at some point in past Jumbles.  The answer letter layout was a stupendous sixteen letter jumble.  Absolutely nothing obvious about it on its own.  The final answer slots' layout, and particularly the one with quotation marks, made for a surprisingly quick solve.
Loved the cartoon of the "Jumble" dude ranch!  A couple of great horsies, watering down, after the two hour ride.  It looks like the wife is holding her backside!  With my bony butt I have a hard time sitting in a wooden chair!  Don't know how long I could stand being on horseback.  Great Sunday Jumble.  Be well and do good, folks.  "Happy trails to you!")   —   YUR
Images courtesy of Google