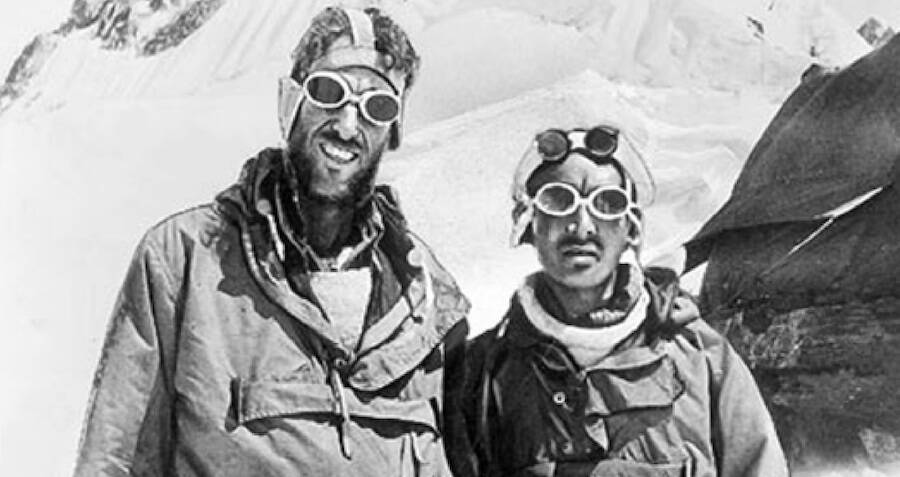 Visual Description:  Chomolungma chums.
RIGEM  =  GRIME,  LHEVA  =  HALVE,  SIRCSI  =  CRISIS,  SRTHHA  =  THRASH   —   Giving us:  GREHVECIISHAH
Clue/Question:  The people who've successfully summited Mount Everest are – – –
Answer:  HIGH ACHIEVERS
("Made it, Ma!  Top of the world!"  Either Edmund Hillary, or Tenzing Norgay, could have said this, assuming either one of them were fans of "White Heat", starring James Cagney.  A Film Noir classic from 1949, also starring Virginia Mayo and Edmond O'Brien.  Mount Everest is most definitely the top of the world, with an elevation of 29,031.7 ft, or 8,848.86 m . . . for most of the rest of the world.  Hillary and Norgay were the first to get to the top in 1953.  Some of our older readers might even remember when this happened.  It was like all of the firsts of the space race, in the 1960s.  Those NASA feats were the biggies from my youth.
All of today's clue words are on the ralis95 clue word database.  Three of the jumbles are coming up as new, however we have certainly seen "rigem" in at least one earlier Jumble.  It took me a couple of looks to see "crisis".  The answer letter layout was thrilling thirteen letter jumble!  The height of cryptic jumbling.  The word HIGH came to me right away, and ACHIEVERS soon followed.
Fine cartoon drawing of the dynamic duo.  Of course, they really didn't do it alone.  They had a couple hundred porters doing most of the heavy lifting.  I'm just happy that Hillary didn't try to take all the credit, as often happened with most European endeavors.  He couldn't have done it without the Sherpa, Tenzing Norgay.  A very cool  – downright frigid – Jumble.  Be well and do good, friends.)   —   YUR
Images courtesy of Google