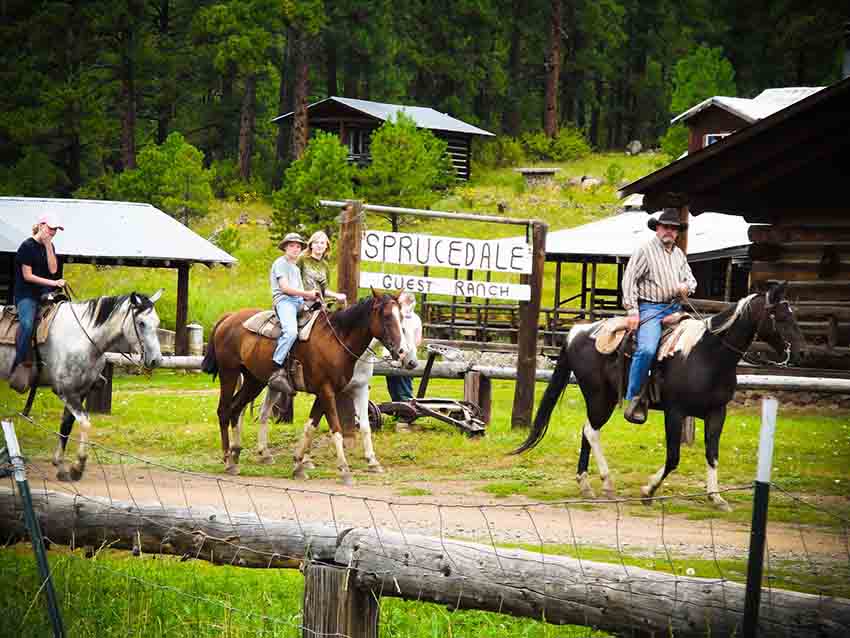 Visual Description:  He's talking to her.  She's talking to the horse.
INNOO  =  ONION,  LAGEE  =  EAGLE,  LDCEDU  =  CUDDLE,  FTAIYR  =  RATIFY   —   Giving us:  OONEEDDRF
Clue/Question:  When they returned to the stable on horseback, it was the – – –
Answer:  END OF THE RODE
(A fine homophonic pun.  They could also use this – kind of – answer for people returning to the dock in their row boat.  Perhaps they already have.  I'm not sure.  We'd need a Jumble historian to verify whether END OF THE ROWED has ever been used before.  Or, they could do something with a heckler being thrown out of a club, and have the answer be END OF THE RUDE.  Are you listening, Hoytie?  If you say it, Knurek can draw it!
All of today's clue words have been down this trail before.  Two of the scrambles have come up as new, but we've definitely seen both "innoo" and "lagee" on past paths.  Nothing to malign about the nine letter answer letter layout.  It was fine for the end of the line equine themed Jumble.
Great drawing of what's likely a dude ranch.  For whatever reason, my son brought up "dude ranch" yesterday, at lunch.  Don't remember the context.  But, it kind of foretold today's Jumble.  Weird, huh?  Be well and do good, friends.)   —   YUR
Images courtesy of Google
Happy birthday to Eric Burdon, of The Animals, and War!