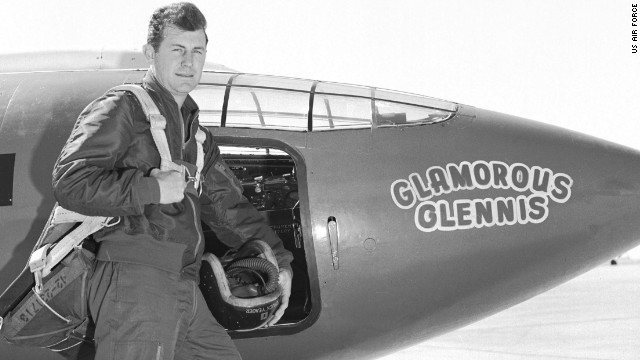 Visual Description:  From 1947 until . . . ?
CYDAE  =  DECAY,  LDANB  =  BLAND,  BONGOL  =  OBLONG,  EYLLVA  =  VALLEY   —   Giving us:  DEABNDOBONVAEY
Clue/Question:  When Chuck Yeager broke the sound barrier, he went – – – 
Answer:  ABOVE AND BEYOND
(Wonderful pun!  I don't think even the worst pun-haters could complain about this one.  All of the clue words are familiar old friends.  However, all of their jumbles are coming up new today.  They were all pretty good, but I'd say "eyllva" might have been the toughest of them.
The answer letter layout was a magnificent fourteen letter jumble.  I'd say pretty cryptic, and not obvious.  A superior answer letter layout adds so much to a Jumble!
The cartoon is fairly simple, but still great.  The soldiers on the ground are relatively straightforward.  But, in the sky you can see the jet's con-trail, where he's building up to the speed of sound, and then . . . BOOM . . . he breaks the the sound barrier!  Very cool.  I remember, way back in the early '60s, when my parents were still together, you would fairly frequently hear sonic booms.  They were very loud, and because it was during the heyday of the Cold War, I'm sure they put a lot of people on edge.  But, since I was between 3 – 6 years old, it didn't bother me in the least.  I guess sometimes it is much better to be naive, than to understand mankind's world.  Be well and do good, friends.)   —   YUR
Images courtesy of Google