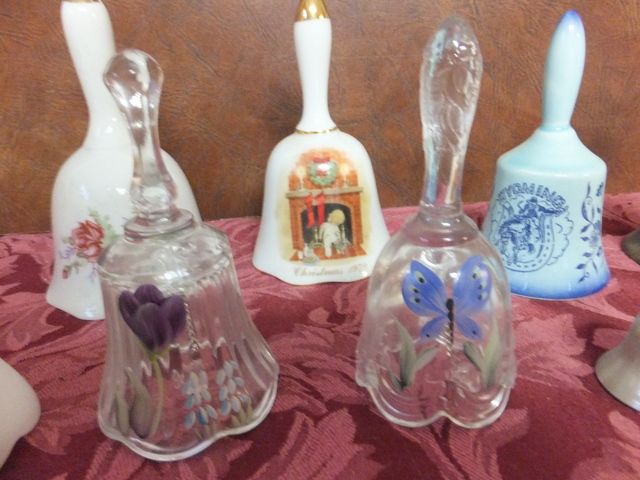 Visual Description:  Ding-a-ling lover.
NIHTK  =  THINK,  UAAGV  =  GUAVA,  SNITIS  =  INSIST,  TNPAYR  =  PANTRY   —   Giving us:  TNGUIIPR
Clue/Question:  She bought the bell at the souvenir shop, and the clerk was happy to – – –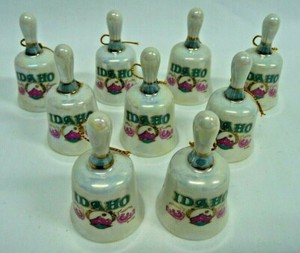 Answer:  RING IT UP
(Oh, Jeeves!  Be a good fellow, and bring me another brandy.  That's what I always think of when I see those little bells.  That's how you summon the butler, or maid.  Not that I've ever had either of those, but I watch a lot of old movies.  Hey, I know it's a Monday, but didn't today's Jumble almost feel like a Junior Jumble?  You know me, guys.  I always like a good challenge, and this one was pretty automatic.
None of today's clue words came up as new.  However, two of their jumbles do appear to be new.  We've definitely seen both "nihtk" and "snitis" sometime in the past.  None of them tripped me up any.  The answer letter layout was a decent eight letter jumble.  By itself, there was nothing obvious about it.  The cartoon and the clue/question were, for me, a clarion call.
Fine gift shop cartoon!  From the mug and the plate/plaque, and the little potato character, it looks like our collector is in the great state of Idaho.  Coincidentally, IDA was one of the answers in today's Los Angeles Times crossword puzzle!  So, everyone run out and eat some potatoes!  Unless you gave them up for Lent, like my daughter did.  She's stuck.  Glad I'm not Catholic.  The only thing I sometimes suffer . . . is fools!  LOL!  Be well and do good, friends.)   —   YUR
Images courtesy of Google