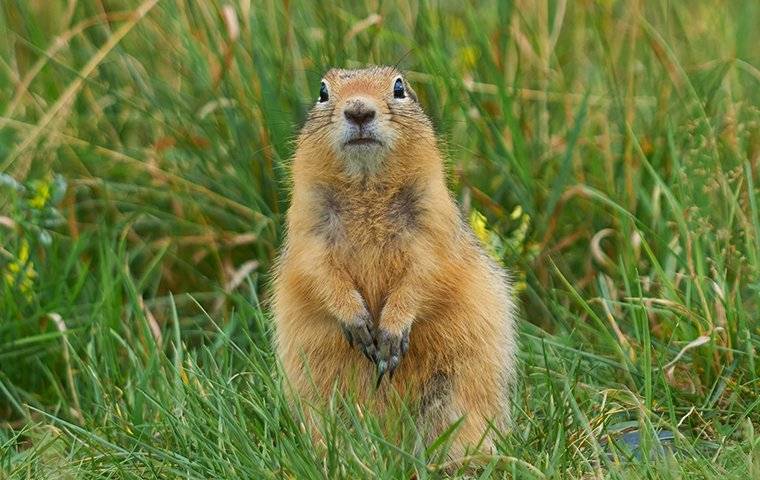 Visual Description:  Outtake from "Caddyshack".
PEIRG  =  GRIPE,  REDBY  =  DERBY,  TOYPST  =  SPOTTY,  HRYOTN  =  THORNY   —   Giving us:  GIERPTHO
Clue/Question:  The rodent knew digging a long tunnel would be tough but decided to – – –
Answer:  "GOPHER" IT
(A well-worn Jumble pun, but I will not complain.  Any reference to one of the funniest movies of all time is always going to be fine by me.  "Caddyshack", "Stripes", "Meatballs", "Groundhog Day" and "Scrooged" are five Bill Murray classics that make my list of great comedy movies.  But Bill is great in just about every movie he has ever done.  Even in the more dramatic ones he can make me laugh.  He's got homes all over the country, but one of them is right here in Rockland County, NY, so I guess you could say we're neighbors.  Funny . . . he's never stopped by to borrow a cup of sugar!
All classic Jumble clue words today.  However, all four of the jumbles are coming up as new for me.  None of them tripped me up today.  The answer letter layout was a great eight letter jumble.  Nicely cryptic.  The cartoon, the dialog, the clue/question, and the quotation marks made for a very quick solve.
Great cartoon of "Mr. Gopher" and his lady friend, across from Bushwood Country Club.  And it's kind of small, but that looks like greens-keeper Carl Spackler – aka Bill Murray – watering one of the holes.  Generally speaking, golf movies are not made for laughs.  "Caddyshack" – less so the sequel – and "Happy Gilmore" are the only ones I can think of.  Fun Jumble.  Be well and do good, friends.)   —   YUR
Images courtesy of Google