Visual Description:   Tacitus???
HRISK  =  SHIRK,  SSALH  =  SLASH,  WHERDS  =  SHREWD,  DOLNOE  =  NOODLE   —   Giving us:  SHILSHSHREOOD
Clue/Question:  To cash in his winning Belmont Stakes "trifecta" ticket, he'd need to – – –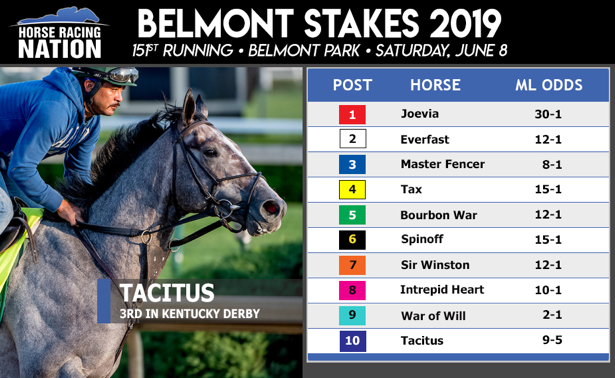 Answer:  HOLD HIS HORSES
(Both of my parents used to say this all the time!  "Hold your horses!"  It's a super expression.  Much better than "Cool your jets" or "Where's the fire?"  Once again, I did not have time to place a bet.  I always love a grey horse, so I guess I'm rooting for Tacitus.  Great bloodline and he's got to be better rested than War of Will.  I also like Master Fencer and Sir Winston.  But what do I know?
"Shirk" is coming up as a new word, but it sounds awfully familiar!  I guess ralis95 will have to add it to his world famous clue word database.  Both "wherds" and "dolnoe" are jumbles that we've seen before.  The answer letter layout is a great thirteen letter jumble.  No give away.
Great cartoon of a cashier's window at a racetrack.  The guys look kind of stereotypical, but I don't take offense.  I know I don't look like that when I go to the track.  All in good fun.  Be well and do well, friends.)   —   YUR
Images courtesy of Google