Visual Description:  Schmilco (NOT an insult) on stage.
TEEIL  =  ELITE,  OMNWA  =  WOMAN,  CCNIES  =  SCENIC,  HNRSKU  =  SHRUNK   —   Giving us:  EITOMASCSRU
Clue/Question:  When his favorite band started their concert, it was – – –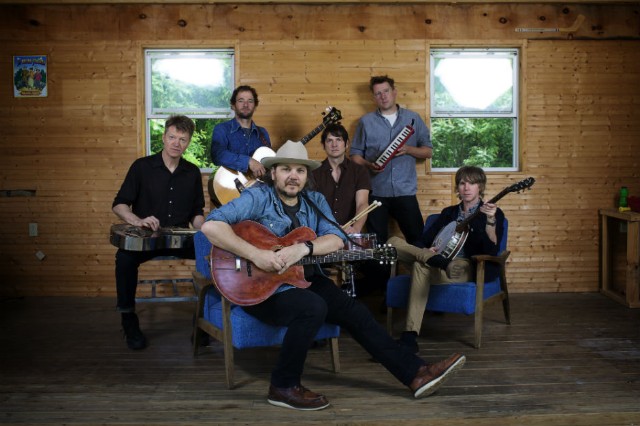 Answer:  MUSIC TO HIS EARS
(Go with what you know!  And, Jeff knows WILCO!  They are a very fine band, and Jeff's favorite.  I'd say this would qualify as one of those literal/figurative puns.  It came up as a no-brainer, for me.
We've been given a break from new clue words.  Our pal, ralis95, can relax, and maybe get caught up on some of those Sunday new clue words that he might have missed.  But, wouldn't ya know?  All of today's jumbles appear to be new.  None of them stumped me though.  The answer letter layout was a nicely cryptic eleven letter jumble.  I didn't find anything obvious about it.
Great cartoon of Jeff and Kathy watching/listening to their favorite band playing a concert.  They are a couple of Tweedy Birds!  Great likenesses of the band members.  If you've never heard their music I'm adding a video below, for your listening pleasure.  Be well and do good, friends.)   —   YUR
Images courtesy of Google