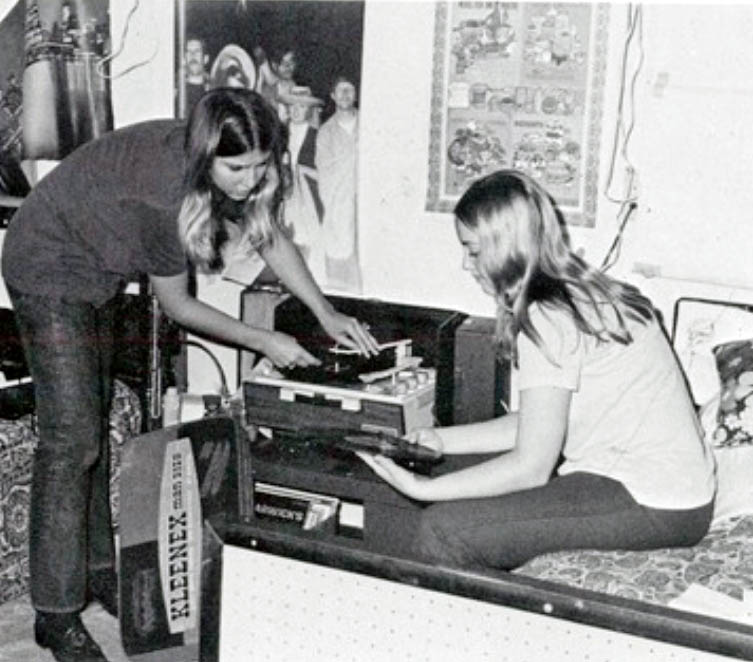 Visual Description:  80's "chicks"!
SAYET  =  YEAST,  NALKP  =  PLANK,  GRAUTI  =  GUITAR,  MTEENC  =  CEMENT   —   Giving us:  ESPAKITCM
Clue/Question:  She loved all of Jagger's music, so she made a – – –
Answer:  "MICK'S" TAPE
(A fine homophonic pun!  And, the answer to the hidden/implied question is "Dancing In The Street".  Of course, it was a remake of the Martha and the Vandellas 1964 classic.  Other bands have also covered it over the years.  I don't think that Bowie and Jagger voices necessarily blended all that well, but they were both at the top of their games at the time.
All familiar old clue words today.  Although, we do have a couple of new jumbles, in "grauti" and "mteenc".  I was able to see them all right away.  The answer letter layout was a fine nine letter jumble.  It didn't give anything away.  And, I can see some folks struggling to come up with the final answer.
Great cartoon of what looks like a college dorm room.  Rock star poster on the wall.  Remember milk crates as furniture?  Great for storing record albums and such.  And of course, the boom box for playing your mix tapes, or pre-recorded tapes, or just the radio.  My college days were actually 1975 – 1979.  Life seemed so much simpler back in the 70s and 80s.  Technology didn't go "obsolete" in just a few months, like it seems to today.  Oh, well.  I guess I'm just getting old!  Be well and do good, friends.)   —   YUR
Images courtesy of Google.