Visual Description:  Dining sott'acqua!
GOEMA  =  OMEGA,  BOATO  =  TABOO,  FONEST  =  SOFTEN,  DGREUT  =  TRUDGE   —   Giving us:  OMETBOSFETRDE
Clue/Question:  The lobsters that opened a restaurant on the ocean floor were – – –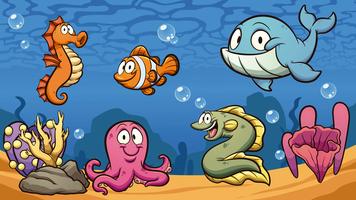 Answer:  BOTTOM FEEDERS
(Which is why I'm not a fan of shellfish!  It's not because of any religious concerns though.  They eat the poop of other fish and sea creatures.  Disgusting!  Logic might say I shouldn't eat porcine products for the same reason, but I know many Jews and Muslims who can't resist bacon!  LOL!  I guess when it comes to pork I can compartmentalize better.
All of today's clue words are longtime denizens of the ralis95 clue word database.  No trout about it!  I'm not just saying that for the halibut.  I cod go on, but this bit is already starting to flounder.  You might think I'm full of crappie if I go any further.  Three of today's jumbles are coming down as new, but apparently we've seen "boato" before.  I thought that "dgreut" was a fine jumble, and "goema" had me going for a while.  The answer letter layout was a tremendous thirteen letter jumble.  Marvelously cryptic, but I was in tuna with the gag!
Very entertaining sea floor cartoon.  Great lobsters, moray eel and flounder – possibly a fluke.  Not sure what the fat-nosed fish is.  The sea anemone on the table is a nice touch!  And, I always enjoy the classic sunken sailboat off in the distance.  This Jumble/cartoon kicks bass!  Be well and do good, friends.)   —   YUR
Images courtesy of Google
Happy birthday to Fred Schneider of The B-52's!