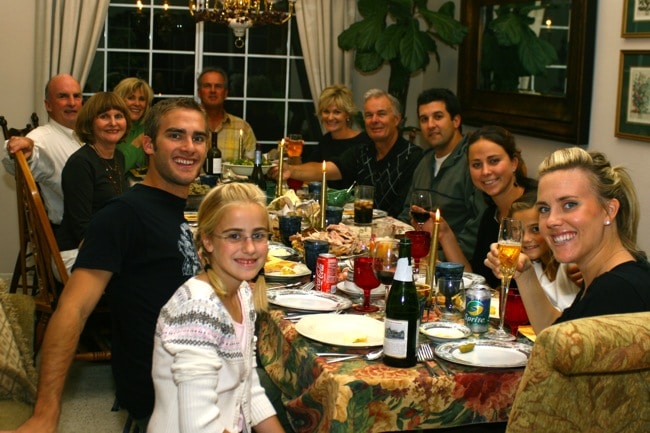 Visual Description:  The Knurek Family Thanksgiving.
LEWLD  =  DWELL,  GNOOB  =  BONGO,  LOIPWL  =  PILLOW,  CEBUTK  =  BUCKET   —   Giving us:  DLBGPOBUE
Clue/Question:  They served a fantastic Thanksgiving turkey that was about to be – – –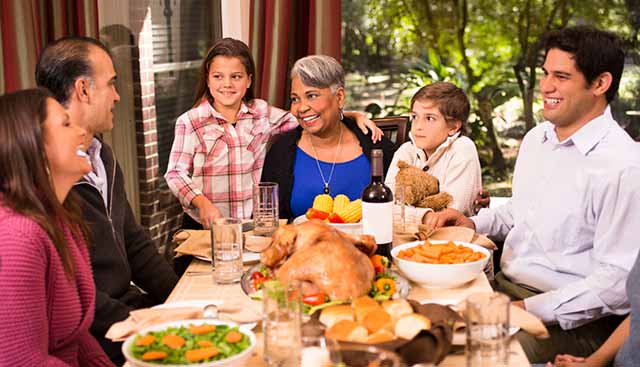 Answer:  GOBBLED UP
(Gee!  What an original Jumble pun!  LOL!  Oh, well.  Happy Thanksgiving everyone!  You might remember that I started this post yesterday, but stopped when I realized that I was . . . getting ahead of myself.  I hope everyone is having a good Thanksgiving.  I am.  My daughter made a lovely meal.  It was just immediate family, but we all enjoyed ourselves.  One of my football teams won, and one lost.  Now, we'll see what happens with the night game.
All of today's clue words are Jumble classics, all residing on the world famous rali95 clue word database!  Three of the jumbles are coming up as new, but we've definitely seen "lewld"some time in the past.  They all came to me very quickly.  The answer letter layout was a nifty nine letter jumble.  Nicely cryptic.  The clue/question was just so leading though.
Great Knurek family Thanksgiving feast cartoon.  It looks like Jeff just can't wait!  I like that he included a kid's table.  It's been quite a while since I've experienced that.  The only one I recognize is Kathy.  Perhaps Jeff will enlighten us to the other Thanksgiving participants.  Perhaps not.  Anyway, fun day before Thanksgiving Jumble . . . at least for me!  Be well and do good, friends.)   —   YUR
Images courtesy of Google