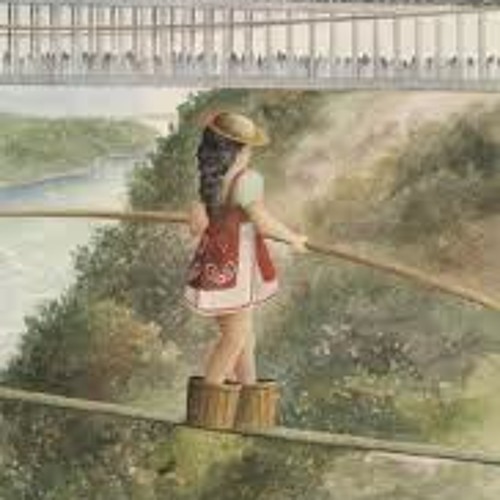 Visual Description:  Daredevil darling.
RTGEHA  =  GATHER,  SAINSG  =  ASSIGN,  GSPSIO  =  GOSSIP,  LOEYWL  =  YELLOW,  FYRADT  =  DRAFTY,  GEEAGN  =  ENGAGE   —   Giving us:  GAHSSOSSYEDTEAE
Clue/Question:  Maria Spelterini was crossing Niagara Falls on a tightrope, and so far it was – – –
Pre-Answer:  Four Words  (6-letters)  (2-letters)  (3-letters)  (4-letters)
Answer:  STEADY AS SHE GOES
(This lady had ice water flowing through her veins!  She was definitely one cool kitten.  And, she didn't just cross the falls once.  No, she did it FIVE TIMES!  The second time she did it wearing peach baskets on her feet.  The third time she did it blindfolded.  And, the fourth time she did it with her wrists and ankles manacled! The fifth time she just did it straight again.  Of course she didn't do that all in one day.  Each crossing was incredibly physically demanding.  She did it over the course of 19 days.  I wonder how long each crossing took?  I guess it would depend on the winds.  She – smartly – made her crossings during July of 1876, for the U.S. Centennial.  Probably no, or very slight, breezes to contend with.
Fortunately, there were no new clue words to deal with today.  Ralis95 is off the hook.  However, all six jumbles were coming up as new, for me.  No real head scratchers, for me.  The answer letter layout was a fierce fifteen letter jumble though.  Nothing obvious about it, at all.  I think the final answer slots had a lot to do with my getting the final answer so quickly.
Fantastic period piece cartoon.  You just knew it had to be the later 1800s.  Great depiction of the momentous occasion.  I'm sure that thousands were in attendance.  And, I have just the right song to go along with our final answer!  Be well and do good, friends.)   —   YUR
Images courtesy of Google