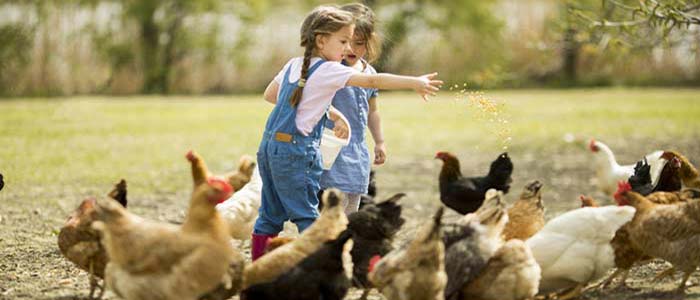 Visual Description:  On the ground, down on the farm.
GECYA  =  CAGEY,  DOORE  =  RODEO,  NIDIEV  =  DIVINE,  CURPEK  =  PUCKER   —   Giving us:  CGEREODINPKR
Clue/Question:  The rooster would have to wait to eat because there was a – – –
Answer:  PECKING ORDER
(Not being a farm boy, I'm not sure how accurate this particular Jumble pun might be.  You'd think, with the whole male dominance thing, that the rooster would eat first, and the hens would be the ones to wait.  But, there is always strength in numbers, and there are always more hens than roosters.  Right?
Well.  Stop the presses!  Alert the media!  And, somebody wake up ralis95!  We have not one, but two new clue words today.  Even before consulting my read-only copy of the Jumble Clue Word Bible, the world famous ralis95 clue word database, I thought to myself:  Hmm, I don't think I've seen Hoyt use "cagey" or "pucker" before.  Lo and behold, my suspicions were correct.  So, two new words for the database are pending the big man's approval.  Only the jumble for "rodeo" has been used before.  The answer letter layout was a super, cryptic jumble.  Nothing obvious, at all.  And, the cartoon is charming.  That's it.  Be well and do good, friends.)   —   YUR