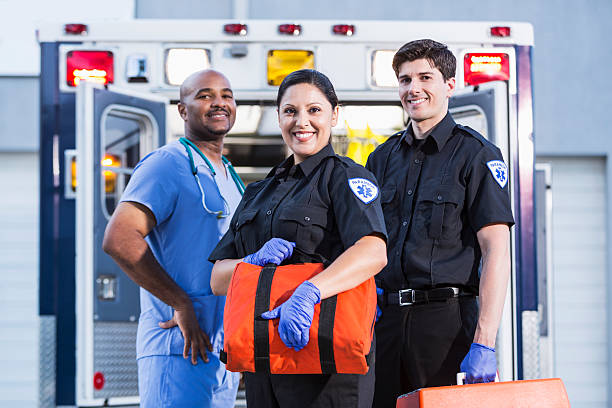 Visual Description:  First responder HEROES!
TFFHI  =  FIFTH,  GNEBA  =  BEGAN,  STUANN  =  SUNTAN,  GDDREE  =  DREDGE   —   Giving us:  ITHBANTAREE
Clue/Question:  The paramedic was trained to use a defibrillator and could use one – – –
Answer:  IN A HEARTBEAT
(CLEAR!!!  Phew!  That was close.  He shouldn't have gone for that third chili-dog!  Madge warned him.  But, Herb always thinks he knows better.  Have you guys heard the latest diss?  Apparently, now the ultimate putdown is to call someone a "Karen".  My son was using it yesterday, and this morning I heard a definition of it on some morning show.  It seemed awfully specific to me, and I'm guessing there must be an actual Karen out there, for which it was coined.  But, how could it have become the latest thing?  I once had a girlfriend named Karen, and she wasn't a whiny, complaining noodge.  She was a feisty little fireball, who loved to play softball.  She wanted me to commit to her . . . so she could dump her boyfriend.  LOL!  Had to turn her down.  She went on to marry an older guy.  She went from a size one to a size fourteen!  That was quite a shock, but as long as she was happy!  I wonder whatever became of her?  Maybe she became a major complainer???
Hey, now!  Hoyt is on a tear with new clue words!  Today he has given us all a "suntan".  Of course, being a compound word, it was the only one that I struggled to get.  Our pal, ralis95, has yet another reason to update his world famous clue word database.  Maybe Angela can tell us whether it was once used in a Sunday Jumble before?  All of the jumbles are coming up as new.  I noticed that Hoyt once used "gnebu" for begun, so he was being consistent today with "began".  The answer letter layout was a cryptic eleven letter jumble.  But, I doubt anyone failed to get the final answer.
Fine cartoon of paramedics saving a man's life.  Jeff must be watching "911", "911 Lone Star", and/or "Chicago Fire".  All fine shows that feature EMTs.  Be well and do good, friends.)   —   YUR
Images courtesy of Google