Visual Description:  The fishing expedition.
NUMDO  =  MOUND,  FRIDT  =  DRIFT,  GTUTAH  =  TAUGHT,  CULNMO  =  COLUMN   —   Giving us:  MUNDRIAUGHCOMN
Clue/Question:  What Wallace and Spud were doing on the boat.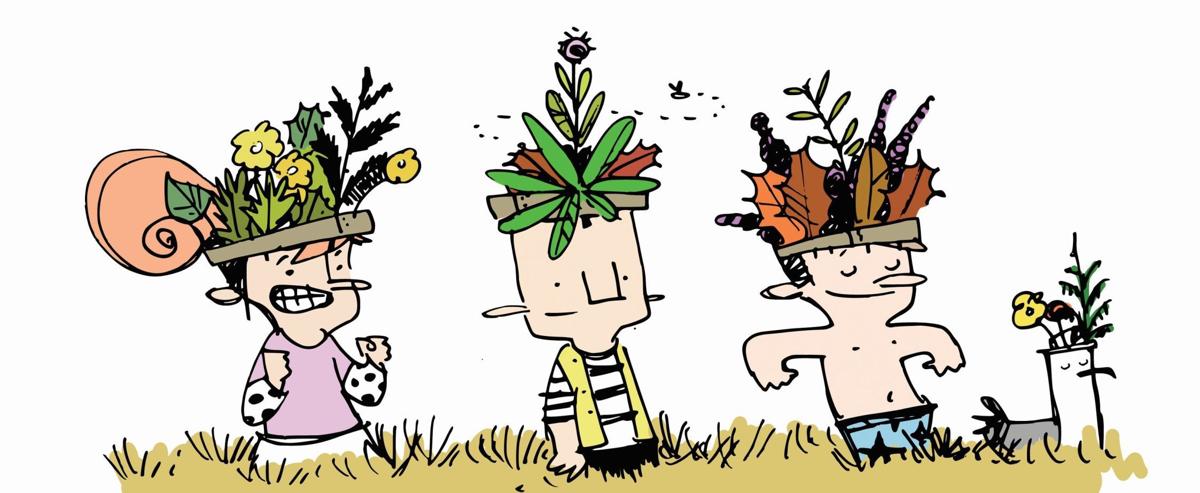 Answer:  CHUMMING AROUND
(Great literal/figurative pun!  When I saw the length of the answer letter layout I was a little intimidated.  But I realized that they weren't just fish, they were sharks.  And, I noticed the buckets, so the answer kind of jumped out at me.  Sorta like in "Jaws".
None of the clue words struck me as new, and the ralis95 clue word database verified that for me.  Three of the jumbles appear to be new, but we've definitely seen "numdo" in the past.  I didn't struggle to get any of them.  The answer letter layout was a fantastic fourteen letter jumble!  I thought it was brilliantly cryptic.  Nice job, guys.
Great cartoon by guest Jumbler Will Henry!  My paper does not carry "Wallace the Brave", but it looks like a good strip.  Comics with kids and animals are usually pretty entertaining.  It looks like it generally takes place around a shore community.  So, go out and buy Will Henry's books!  This has been a fun week of guest Jumblers.  Is this generally a one week deal, or might we see more guests next week?  Be well and do good, friends.)   —   YUR
Images courtesy of Google, and Will Henry.