Visual Description:  Grandparents fall for their grandchildren hook, line, and sinker!
RYUFR  =  FURRY,  ETLTI  =  TITLE,  CEAUNN  =  NUANCE,  WEREPT  =  PEWTER   —   Giving us:  RRTLAEETE
Clue/Question:  Being able to go fishing with his granddaughter was a – – –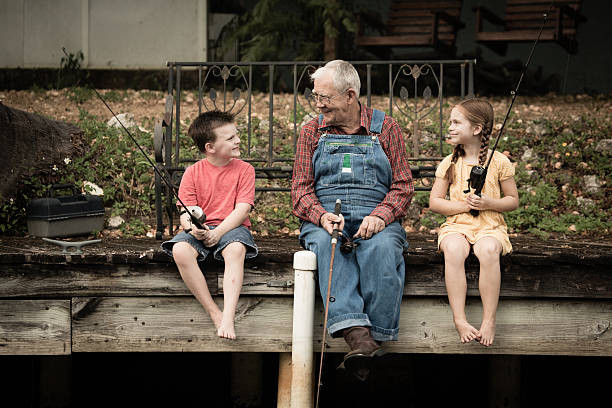 Answer:  "REEL" TREAT
(A real piscine pun!  I'm pretty sure we've had this pun before, but sometimes they're worth reviving.  Like today's Jumble!  The word "reel" has a number of meanings.  Besides a cylinder for winding fishing line, or film, etc., it can be a kind of Irish or Scottish dance, and it can also mean to stagger and falter.  Really!
All of today's clue words are already members of the ralis95 clue word database.  Yet, all of their jumbles have come up as new!  But I was able to se them all immediately.  The answer letter layout was a nifty nine letter jumble.  There was a cryptic angle to it.  But of course, the quotation marks kind of gave the final answer away.
Cute cartoon of Gramps and Granddaughter enjoying a day of fishing.  That fish definitely looks annoyed.  I've never seen a fish with eyebrows before though!  LOL!  Be well and do good, friends.)   —   YUR
Images courtesy of Google
Happy birthday to Graham "Suggs" McPherson of Madness! (One of the great Ska/British New Wave groups of the late '70s and '80s!)