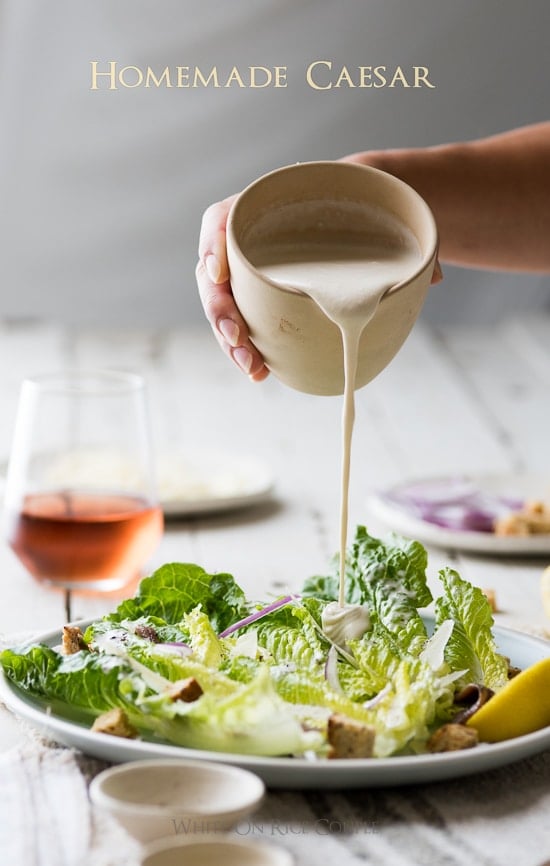 Visual Description:  A Cardini creation!
SOHOCE  =  CHOOSE,  SFUNEI  =  INFUSE,  DULEDC  =  CUDDLE,  SUYRGA  =  SUGARY,  DTOEDS  =  ODDEST, SNEUUR  =  UNSURE   —   Giving us:  CSEFSECDDSUROSSRE
Clue/Question:  When the Caesar Salad debuted, the inventor and the salad were – – –
Pre-Answer:  Three Words  (7-letters)  (3-letters)  (7-letters)
Answer:  DRESSED FOR SUCCESS
(A marvelous smelling pun!  Lots of garlic and black pepper.  Hold the anchovies!  A lot of recipes for Caesar Salad don't actually use anchovies anyway.  Supposedly they get that salty tang from the Worcestershire sauce.  And, I'm glad for that.  I'm not a big fishy guy.
All of today's clue words are currently residing on the ralis95 clue word database.  However, all seven jumbles appear to be new!  I did not struggle with any of them tough, which is a little unusual.  The answer letter layout was super seventeen letter jumble.  Nothing obvious about it.  For me, it was the word "sauce" in the one guy's dialog that set me down the right path, for the final answer.  I guess there's really no good alternative for the word dressing, when it comes to salad.  Vinaigrette is a little too specific, I suppose.  Hey, why haven't we Anglicized the word vinaigrette to vinegarette?  Is it because the "ette" kinda keeps it French regardless?  Does anyone, but me, even care?  I guess they had no choice but to go with "sauce", because it is a sort of sauce.  With turkeys, at least, you have the option of calling the bread, sausage, veggies, and mushroom concoction either dressing, or stuffing.
Classy restaurant scene cartoon.  No chicken fingers or loaded potato skins on this menu.  Technically, this qualifies as a period piece cartoon, but it would be kinda hard to pin down.  According to good old Wikipedia this is likely sometime in the later 1920s.  Lots of fun though.  Be well and do good, friends.)   —   YUR
Images courtesy of Google