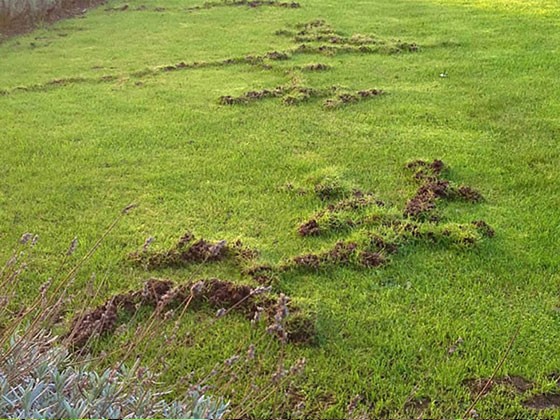 Visual Description:  Tunnels of love?
NCAKK  =  KNACK,  DIGEU  =  GUIDE,  DRSIAH  =  RADISH,  TNTNEI  =  INTENT   —   Giving us:  NKGUDRAINET
Clue/Question:  When the moles moved into their yard, the owners didn't care for the moles' – – –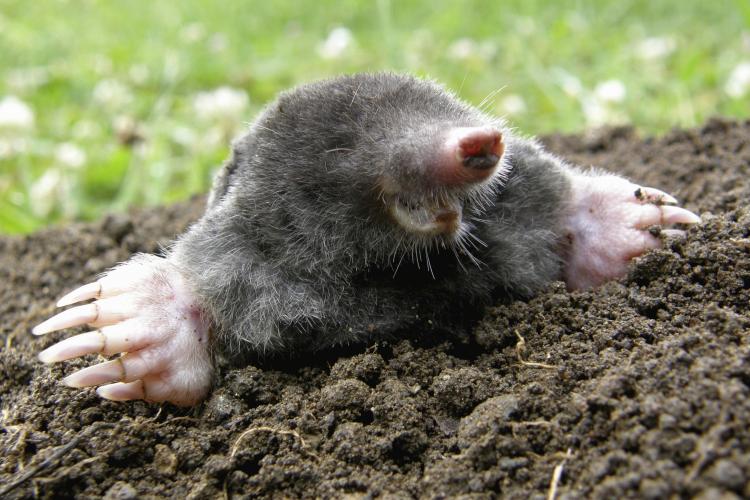 Answer:  UNDERTAKING
(And, that's the mole truth, and nothing but the truth!  We usually hear more about mole hills – as in making a mountain out of a mole hill – but mole runs are a more common sight in my neck of the woods.  Fortunately for me, I've only had them in my backyard, where it's a little more wild and natural.  They're just a very minor nuisance.  But for someone's pristine front lawn?  Ugh!  They're a real eyesore!  And, I suppose they're a bit of a hazard as well.  But moles can be beneficial to your yard/lawn . . . if you're having a problem with grubs!  They love to eat grubs and beetles, and worms.  Hey.  They're God's creatures too!
All of today's clue words have been used before.  However, it's looking like all of the jumbles are coming up as new.  They all came to me right away.  I'm sure Ken could come up with a cute short story with these clue words!  The answer letter layout was an elusive eleven letter jumble.  Wonderfully cryptic.  After about 20 seconds I saw UNDER.  That left me with NKGAIT . . . for the TAKING!
Great suburban couple, looking out their living room window, at the two cute little moles.  I like how the runs are interspersed with a few mole hills.  Hey, they gotta come up for air!  Anyone remember the 1950's horror move:  "The Mole People"?  It starred Beaver Cleaver's dad, Hugh Beaumont!  I probably saw that movie at least three or four times on TV, when I was a kid.  They played a lot of '50s movies on TV in the early to mid '60s.  It was one of my favorites, along with "Creature From the Black Lagoon".  Good, campy fun!  Be well and do good, friends.)   —   YUR
Images courtesy of Google