Visual Description:  Codger, crags and a crank.
MOLIB  =  LIMBO,  LSDAA  =  SALAD,  NLDAAS  =  SANDAL,  DHOSAW  =  SHADOW   —   Giving us:  LIOSLDSALSHA
Clue/Question:  The rock formations in the Scottish Highlands are – – –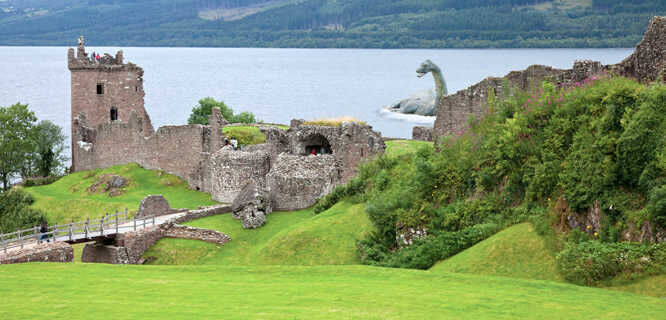 Answer:  AS OLD AS THE HILLS
(Just you wait, Missy!  Time catches up with all of us, eventually.  And, to these eyes, you're no spring chicken yourself.  I certainly get the pun.  I didn't struggle to get the final answer, but initially I was looking for something more related to Scotland.  A quick Google search said that the popular expression: as old as the hills goes back to the Bible, Job, 15:7.  But it has gone through some changes over the years.
We have seen all of these clue words before.  Apparently, Hoyt has given up on finding new ones.  However, he is coming up with new jumbles for the clue words, as all of today's have come up as new.  None were tough to get though.  The answer letter layout was a twirling twelve letter jumble. I definitely don't think it gave anything away.
Fine cartoon of a couple of folks traversing the Scottish Highlands.  Maybe they're heading to Loch Ness, to get a glimpse of Nessie!  Nah!  That's just for the suckers . . . I mean tourists.  Lots of popular destinations are based on myths and legends.  Magical thinking is an entertaining escape from the reality of real life.  Be well and do good, friends.)   —   YUR
Images courtesy of Google