Visual Description:  Operation Fillerup!
DHIWT  =  WIDTH,  NYADH  =  HANDY,  SUCINO  =  COUSIN,  CRAAED  =  ARCADE   —   Giving us:  WTHHNCOAD
Clue/Question:  When they resupplied the submarine with provisions, everything went – – –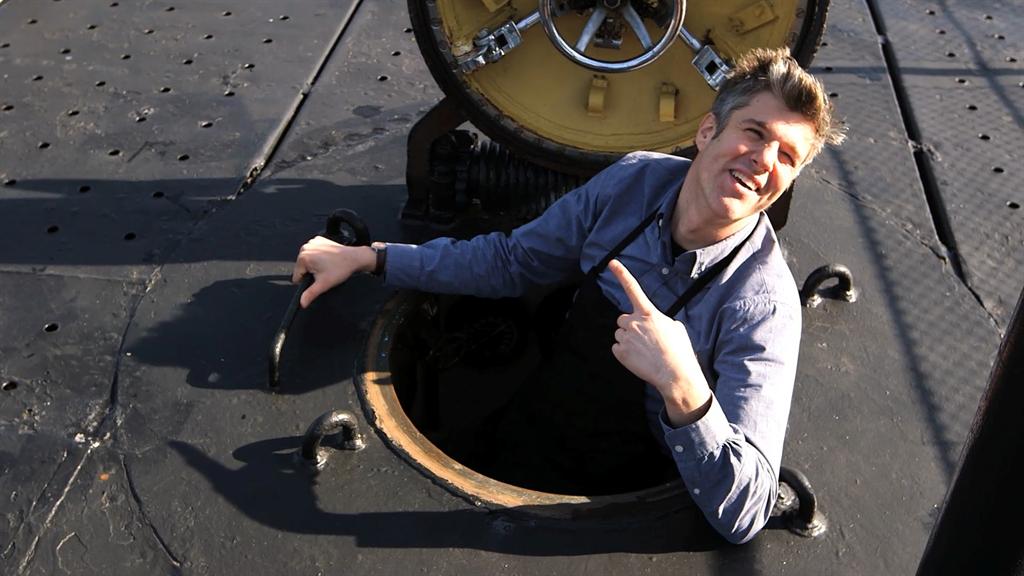 Answer:  DOWN THE HATCH
(One of those literal/figurative puns!  The idiom is originally a nautical term that dates back to the 18th Century, and it literally meant as in Jeff's great cartoon, but more generically for any ship.  Not exactly sure when it came to being like a toast for drinking alcohol, or swallowing anything strong or unpleasant.  I'm pretty sure it must've come from some sailor though.
There were no new clue words today.  However, all four jumbles are coming up as new, for me.  The only one to give me pause was "craaed", but I saw "arcade" after a few looks.  The answer letter layout was a fine nine letter jumble.  By itself, it was wonderfully cryptic. 
Jeff's great cartoon was the biggest clue to solving this.  Right off the bat, you can tell this is a guy popping out of the submarine's opening, better known as its hatch!  I guess it was just a little too busy to include a classic sinking sailboat on the horizon.  Maybe next time.  Be well and do good, friends.)   —   YUR
Images courtesy of Google