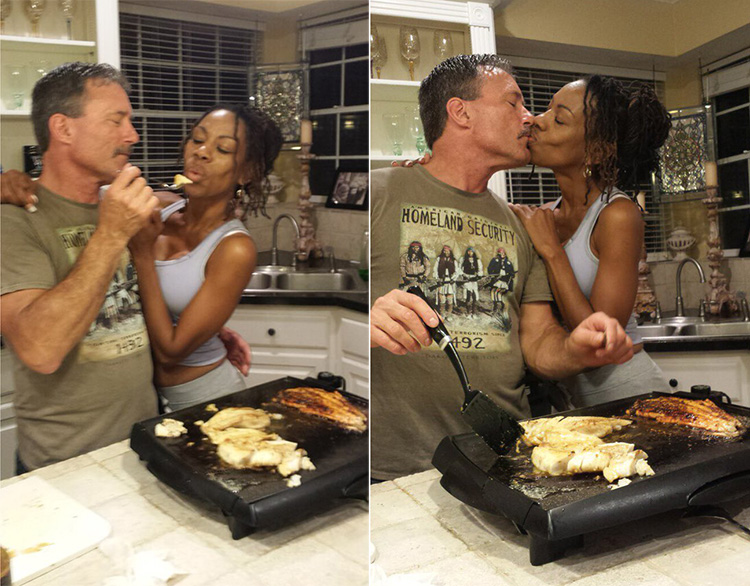 Visual Description:  Too many cooks spoil the broth.
NGUIF  =  FUNGI,  POSYU  =  SOUPY,  DENAAG  =  AGENDA,  DEYMOL  =  MELODY   —   Giving us:  NGSPAEAMEO
Clue/Question:  They were trying to follow the recipe in the cookbook, but weren't – – –
Answer:  ON THE SAME PAGE
(I can't take sides here, because I really don't have the patience for cooking.  It kinda sounds like the guy did jump the gun though.  Cooking a meal is as much about planning and timing, as it is the physical act of cooking.  You don't necessarily need something to be done, just to get it out of the way.  To everything turn, turn, turn.  There is a seasoning . . . Okay, enough of that.
The race to complete the ralis95 clue word database continues, with today's addition of "fungi".  We've had fungus many times before, but this is the first time we're going with the plural.  Three of the jumbles came up as new, with "posyu" having definitely been used before.  For the past number of days, I've been getting the first three right away, but the fourth one is always making me work some to get it.  I didn't have to back into "melody" today, or anything, but it wasn't automatic either.  The answer letter layout was a fine ten letter jumble, but the answer came to me immediately.
Nice little domestic, kitchen scene cartoon.  Mom is definitely not pleased, and Dad is getting defensive.  I think Mom is going to give Dad a beer and a bag of chips, and send him to the den.  Or, it could go the other way, I suppose.  LOL!  The couple up top seem to be getting along MUCH better!  Be well and do good, friends.)   —   YUR
Images courtesy of Google