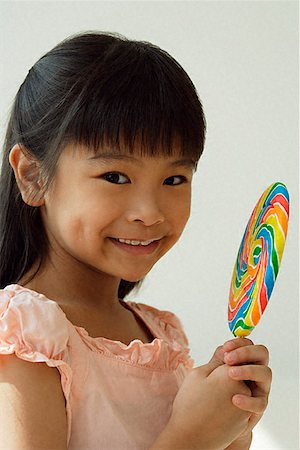 Visual Description:  All-year sucker.
EHTTE  =  TEETH,  WNHOS  =  SHOWN,  RJNUIE  =  INJURE,  RUTMET  =  MUTTER   —   Giving us:  TEESHWIREMTE
Clue/Question:  She'd been given a large lollipop and was taking – – –
Answer:  HER SWEET TIME
(I know exactly how she feels.  When it's hard to have your cake and eat it too – okay, so it can't be done – you want to do all that you can to . . . make it last.  Storage is always an issue.  You can't really lay it down, because it will stick to most surfaces.  You also need a lint free – cat hair free – environment to keep it in.  If you're lucky, you might be able to convince Mom to find a safe space in the fridge.  Away from her cottage cheese – ugh – and Dad's beer – yum!
We have certainly seen all of these clue words before.  No need to bother ralis95.  But we haven't seen any of these jumbles before!  Maybe, before I started Tag-ging the newer jumbles, but definitely not in a long time.  None of them tripped me up any.  My daughter had a brief issue getting "injure".  Probably because the clue word starts with a vowel.  The answer letter layout was a twinkling twelve letter jumble.  I thought it was pleasantly cryptic.
Fine cartoon of a little girl's bedroom.  It looks like she's still in her jammies and slippers.  Mom and Dad are having a nice little chuckle at the scene.  I liked the kitten cleaning his/herself, and the unicorn poster on the wall.  A fine Saturday morning Jumble.  Be well and do good, friends.)   —   YUR
Images courtesy of Google
Happy birthday to both Dash Crofts, and David Crosby!