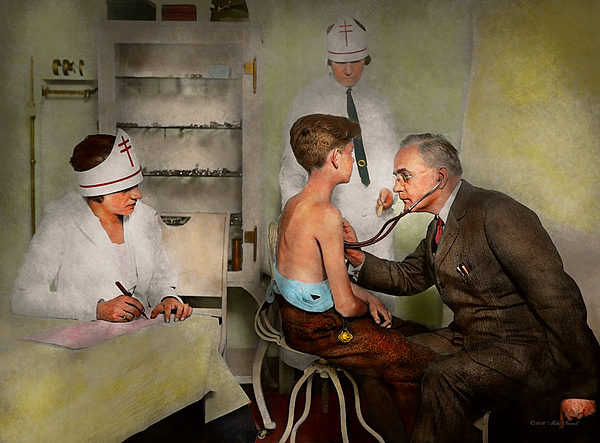 Visual Description:  All done, at the Doc's!
HATSS  =  STASH,  JOEYN  =  ENJOY,  GHNETL  =  LENGTH,  CURHOC  =  CROUCH   —   Giving us:  TASEYETHROH
Clue/Question:  Disposable hypodermic needles get thrown away after a single use because – – –
Answer:  THEY ARE SHOT
(A fine – point – pun!  Maybe, just what we need.  A bit of medical humor, instead of horror.  The number one reason that kids don't like going to the doctor is the fear of getting shots!  No one really likes getting shots, but kids are a little more sensitive to pain than adults are.  I think they associate pain with punishment.  So, it's like:  What did I do wrong to deserve this???  But, just like adults, all kids are a little different.  Skin types also seem to play a role in it.  The thinner softer skin takes a shot easier than the harder thick skin does.  My brother and sister both have the harder skin, and the needle always kind of popped the skin, making them cry.  While my soft fleshy skin took the needle much easier.  It still hurt, just not as much as my siblings.
No new clue words today.  Three of the jumbles are coming up as new, but we've definitely seen "hatss" before.  None of them tripped me up today.  The answer letter layout was a nicely cryptic eleven letter jumble.  I just knew the word SHOT was going to be in there.  Kids never say injection!
Fine doctor's office cartoon.  I liked the jars of cotton balls and tongue depressors, and the hazardous waste receptacle on the wall.  The paper on the exam table was also a nice touch.  Be well and do good, friends.)   —   YUR
Images courtesy of Google  & Fine Art America