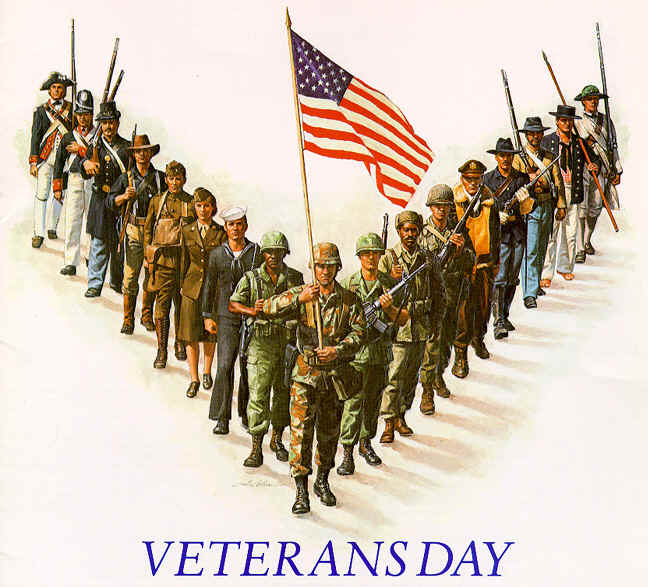 Visual Description:  Another reason to like Ike!
CNIEM  =  MINCE,  SLEYT  =  STYLE,  PRILSA  =  SPIRAL,  PONCAY  =  CANOPY   —   Giving us:  MNESTESIRACNPY
Clue/Question:  Making Nov. 11an official holiday to honor veterans was a great idea – – –
Answer:  IN MANY RESPECTS
(Excellent pun!  And, a challenging Jumble answer.  It took me a couple of minutes to see it.  Originally Armistice Day, commemorating the end of The World War, back in 1918, it was changed to Veterans Day in 1954.  I suspect there was a practicality aspect to the name change too.  WWII had ended less than nine years before, and the Korean Conflict ended just about a year prior to the name change.  I think they were trying to avoid a WWII *armistice* day and a Korean *armistice* day, etc.  This provided a way to acknowledge the contributions of all our nation's veterans, on a single day.
There were no new clue words today.  Three of the jumbles appear to be new, but we've definitely seen "poncay" before.  I thought that "sleyt" was a pretty slick jumble.  It tripped me up for a minute or so.  The answer letter layout was a very impressive fourteen letter jumble.  I had to read and re-read the clue/question a few times before I was able to see IN MANY.  From the ESTESRCP I was able to come up with RESPECTS.
I think Jeff drew his inspiration for his cartoon/drawing from the photo that I posted.  I can see those three men standing behind Ike in that photo.  The flag too!  Very good likenesses.  You can thank a veteran any day of the year, but this is their official day of recognition.  They deserve our respect and gratitude!  Be well and do good, friends.)   —   YUR
Images courtesy of Google