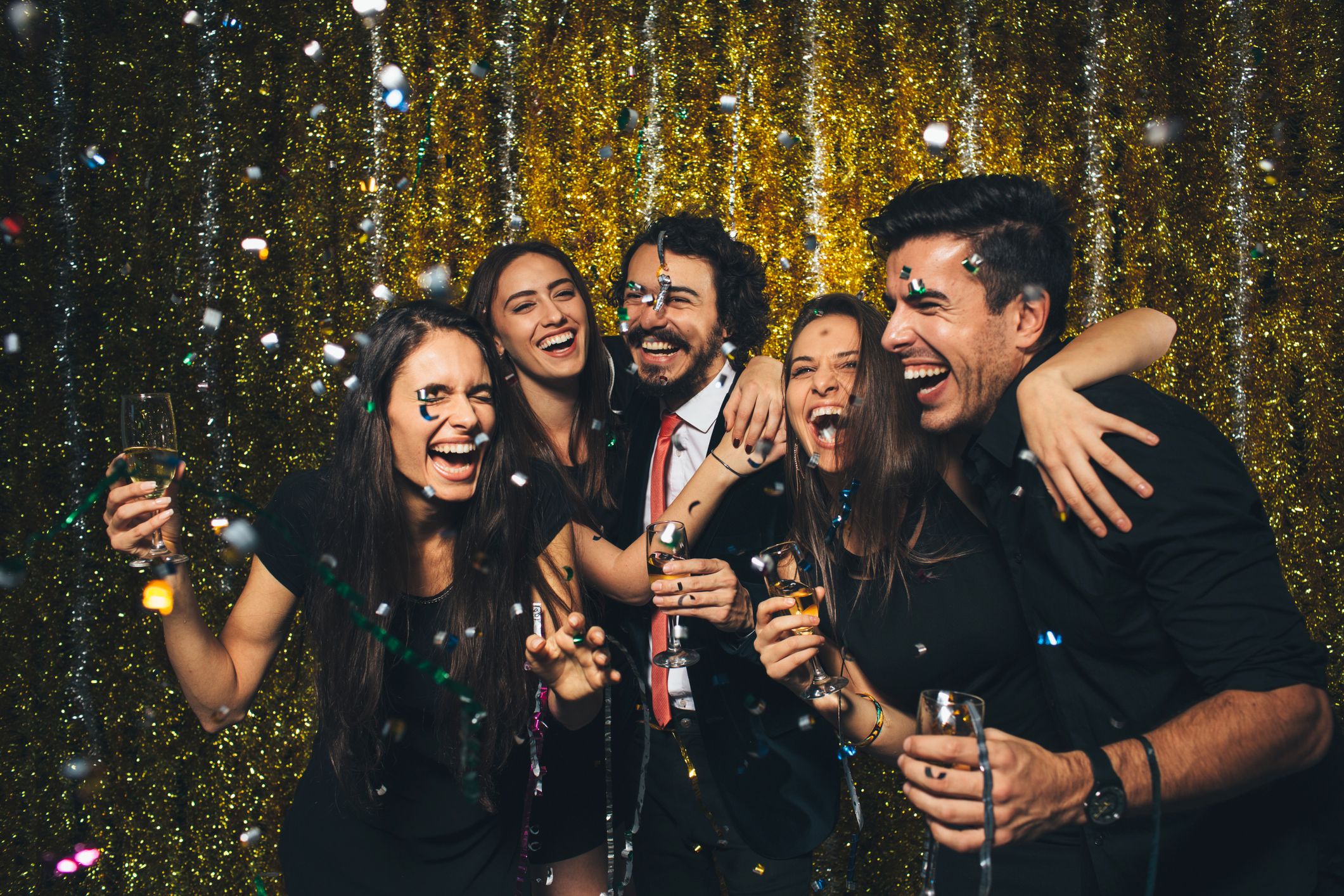 Visual Description:  Party revelers!
BLYOB  =  LOBBY,  LUBBR  =  BLURB,  RPCEPO  =  COPPER,  KBEYAR  =  BAKERY   —   Giving us:  LOBLUBPPEBEY
Clue/Question:  The enthusiastic New Year's Eve party guests drinking champagne were – – –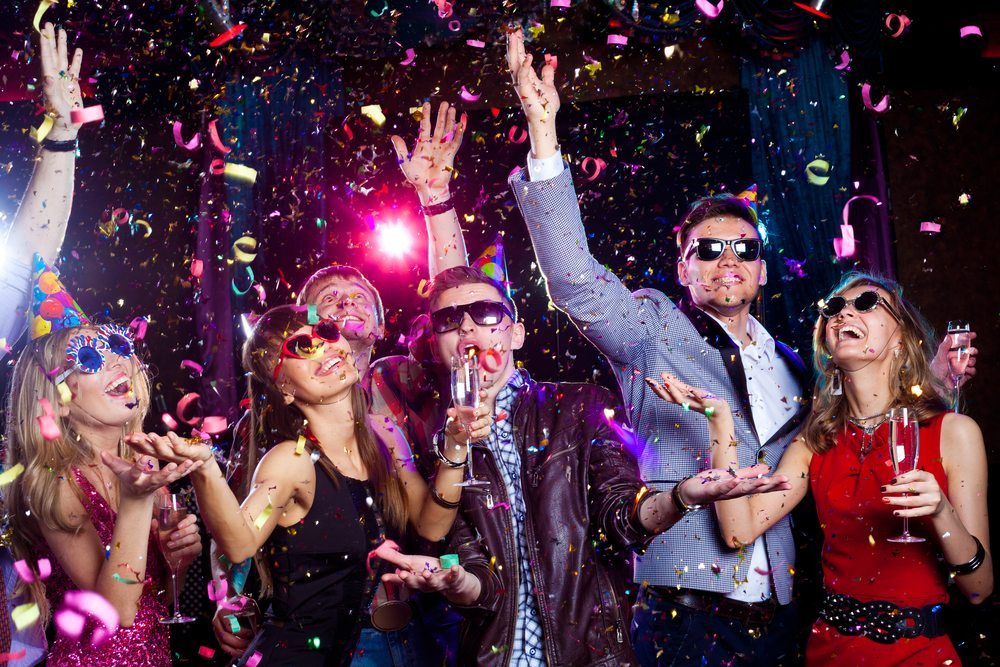 Answer:  BUBBLY PEOPLE
(Something yer Uncle Rave definitely is not!  I will drink the swill, but I'm just not into sparkling wines, of any kind.  I know there are good champagnes and bad champagnes, and I've had both, but it just doesn't float my boat.  If I were ever to go on "The Late Show with Stephen Colbert", and he pulled his either or quiz on me, when he gets to flat or sparkling I would definitely answer flat.  I don't care for bubbles in my water, or in my wine.  They're fine in soda/pop and – of course – in beer, but for me that is completely different.  Of course I'll toast with champagne, but I never look for a refill.
All of this day's clue words have been used numerous times in other Jumbles.  However, all four jumbles appear to be new.  I saw them all immediately.  I did this Jumble fairly late in the day, as my newspaper was not delivered – by design – and the E-edition was somehow corrupted on the newspaper's website.  I spent a lot of time on the phone, trying to get some satisfaction, but it was all an exercise in futility.  I spoke to four different people on their Technical end, all in The Philippines.  The first one was a woman on a really crappy line.  We couldn't really hear each other, and she didn't sound like she'd be any help at all.  The second was a much better connection with a woman named Corinne.  Much better connection, friendly, but all she could suggest was for me to reboot MY computer and try again!  I've used the E-edition enough times over the last few years to know that the issue wasn't on my end, but I did as she said.  She couldn't stay on the line, so of course I had to call a third time, after that – SURPRISE – didn't work, and I got some guy who was terribly condescending, and wouldn't let me get a word in edgewise.  I had to raise my voice and talk over him to tell him what I was doing step-by-step, and the SOB apparently hung up on me.  The fourth time I got a woman named Ann, who FINALLY acknowledged that here was a problem ON THEIR END.  She couldn't tell me if it was going to be resolved that day, or not, but I thanked her anyway.  I actually got this Jumble by seeing that Jeff Knurek had posted it to his Facebook page!  I know I could have gone to the Jumble website, but I was in no mood to do so.  I think the Arkansas Democrat Gazette is no longer free, so I didn't bother to go there, for either the Jumble or the Cryptoquote.  I could have posted this last night, but because of all the hassle I went through, and some domestic drama that has put a damper on our home, I just wasn't in the mood.  Again, no physical newspaper today, but at least the E-edition is working again!  Oh, yeah!  The answer letter layout was a tenacious twelve letter jumble.  I saw BUBBLY right away, and from the LOPPEE the word PEOPLE appeared.
Fine cartoon of New Year's Eve party revelers, from what I remember.  People drinking and telling jokes and such.  I hope that everyone made it through New Year's Eve safe and sound!  Because of the resurgence of Covid, I hope that all/most of you kept it smaller and lower key.  We definitely did.  Be well and do good, friends.)   —   YUR
Images courtesy of Google
Happy birthday to Burton Cummings of The Guess Who!  (A great '60s rock band out of Canada.)