Visual Description:  Gluten-free folk need not apply.
PHIOP  =  HIPPO,  BSILS  =  BLISS,  NAPTUE  =  PEANUT,  OYMLOG  =  GLOOMY   —   Giving us:  HOBLSPAUGLY
Clue/Question:  The seabird's new business near the Golden Gate Bridge was a – – –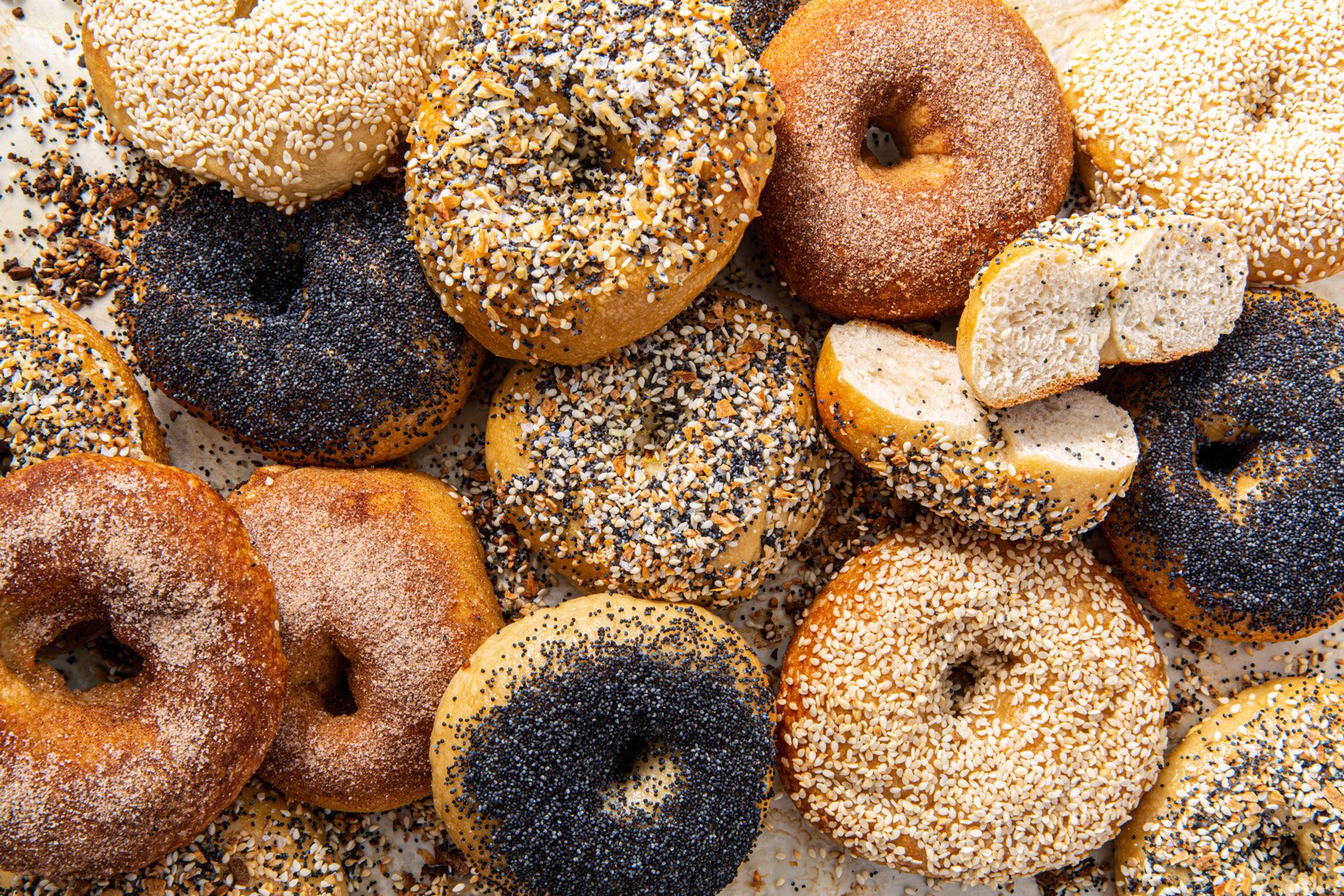 Answer:  "BAY–GULL" SHOP
(I don't think you can call this one a stinky pun, as the aroma of fresh baked bagels is positively intoxicating.  Very much like bread – which bagels basically are – but you get so much variety with bagels.  I can probably eat just about any type of bagel, but my favorites are the stinky bagels.  They're not stinky to me, mind you, but you get some folks who get upset by the smells of onion, or garlic.  But, my favorites are the everything bagels.  I guess I get more offensive bang for my buck with those bagels!
Today's clue words were all familiar old friends again.  Three of the jumbles are coming up as new, with only "phiop" having definitely been used before.  I had a little trouble seeing "peanut".  I had to skip over "naptue", but I got it on the second pass.  The answer letter layout was a super eleven letter jumble.  I was puzzled at first, but I was able to get the GULL part, because "seabird" was so purposefully general.  Then, because of the quotation marks and hyphen, I was able to pull BAY out of the HOBSPAY.  And of course, the HOSP gave me SHOP.  A very cleverly constructed Jumble answer!
I always love Jeff's cartoons where the animals act like humans.  I was a little thrown by the size of the bagels in the display case.  Kinda puny.  They looked more like donuts to me.  I think the mini-bagels, on the plate, kind of clued me into what was being sold.  Fun cartoon, and a fun Jumble.  Be well and do good, friends.)   —   YUR
Images courtesy of Google