Visual Description:  Walter Huston's not having it!
IRAWND  =  INWARD,  SISANG  =  ASSIGN,  NDUSED  =  SUDDEN,  HANELI  =  INHALE,  SITNLP  =  SPLINT,  BOYEDM  =  EMBODY   —   Giving us:  INWSSISUENHESINMBO
Clue/Question:  The recluse extracted gold without any help and liked to – – –
Pre-Answer:  Four Words  "(4-letters)"  (3-letters)  v  (3-letters)  (8-letters)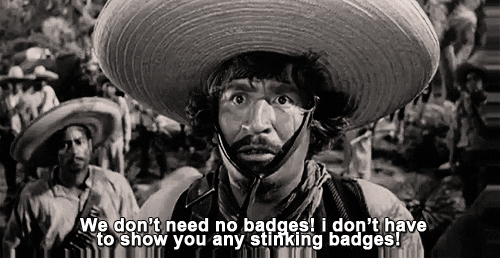 Answer:  "MINE" HIS OWN BUSINESS
(A marvelously stinky pun!  And, I'm pretty sure old Howard must be pretty ripe himself!  He probably hasn't bathed for at least six months, or so.  Maybe that's his plan for keeping the banditos at bay!  Stinking miners???
All of today's clue words are old favorites.  However, all of the jumbles came up as new today!  They were all great too, although I didn't struggle with any of them.  The answer letter layout was awesome!  Eighteen letters long, with nothing given away.  I thought I might have some trouble getting such a long answer, but the combination of the cartoon showing the mine in the background, the clue question avoiding the word miner, and the quotation marks, all helped in coming up with the answer.  Great cartoon, by the way.  Be well and do good, friends.)   —   YUR