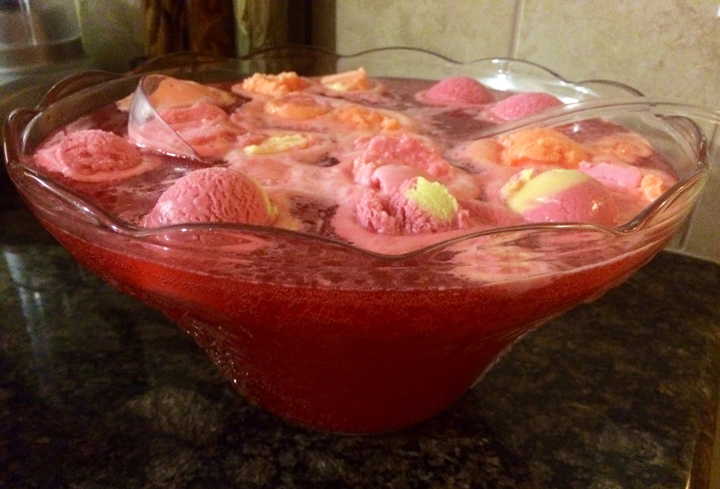 Visual Description:  Refreshing fruity drink.
EUSNNE  =  UNSEEN,  DHDNIE  =  HIDDEN,  CREEON  =  ENCORE,  BNOOGL  =  OBLONG,  WASRPL  =  SPRAWL,  PAAPER  =  APPEAR   —   Giving us:  USHDECELNSPAPA
Clue/Question:  She used fresh fruit to make her own juice and was – – –
Pre-Answer:  Three Words  (7-letters)  (2-letters)  (5-letters)
Answer:  PLEASED AS PUNCH
(Pretty proud of herself too!  Punches can be very refreshing, and some can pack a wallop.  I think older generations are more into alliteration than younger ones.  I saw today's answer immediately.  But when I handed this over to my daughter to solve, it took her a little time, and a hint or two.  She acted like she'd never heard the expression before.  And, maybe she hadn't.  The phrase/saying comes from the old Punch and Judy puppet shows, where the violent Mr. Punch is always very pleased with himself after beating, or killing, someone.  Today his shtick would be considered highly misogynistic.
All well-worn clue words today.  However, all six of the jumbles are coming up as new for me.  No head scratchers for me though.  Not even "unseen".  Maybe I'm over my UN thing?  The answer letter layout was a fabulous fourteen letter jumble.  I guess for folks not familiar with the phrase this was a challenging jumble.
Great backyard party scene.  Seems to be a tropical/Hawaiian themed party, with the pineapple, the leis, and tropical prints.  I like the tray of pigs in a blanket.  Ooh!  Maybe they're something wrapped in bacon!  That works too.  I hope all had a fine time.  Some punches will have sherbet in them.  That makes them extra sweet.  Be well and do good, friends.)   —   YUR
Images courtesy of Google