Visual Description:  Ben showing some Thomas.
GOEAVY  =  VOYAGE,  NWENIR  =  WINNER,  XTOIEC  =  EXOTIC,  BLAIEV  =  VIABLE,  GLRUAF  =  FRUGAL,  SELYIA  =  EASILY   —   Giving us:  VGENNEIIBEGLESI
Clue/Question:  Some people may have been doubtful about bifocals, but – – –
Pre-Answer:  Thee Words  (6-letters)  WAS  (9-letters)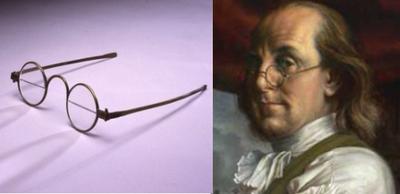 Answer:  SEEING WAS BELIEVING
(Ben was THE Man!  Statesman, inventor, lady's man!  And, I hear he could hold his liquor too!  Is it any wonder they put him on the C-note?!  I hate trite phrases, but his invention of of bifocals was a . . . game changer!
No new clue words today.  Five of the jumbles came up as new, for me, but we've definitely seen "nwenir" sometime ago.  The only one that I even hesitated on was "selyia".  Katrina struggled a bit with "goeavy".  Mr. Hoyt gave us an answer letter layout that was a fantastic fifteen letter jumble, but today's answer came a heck of a lot faster than last Sunday's!
Another excellent period piece cartoon from Mr. Knurek.  Not sure who the dude in the wig is, but he's reading what I put up at the top of this spoiler.  Tons of fun, guys!  Be well and do good, friends.)   —   YUR
Images courtesy of Google