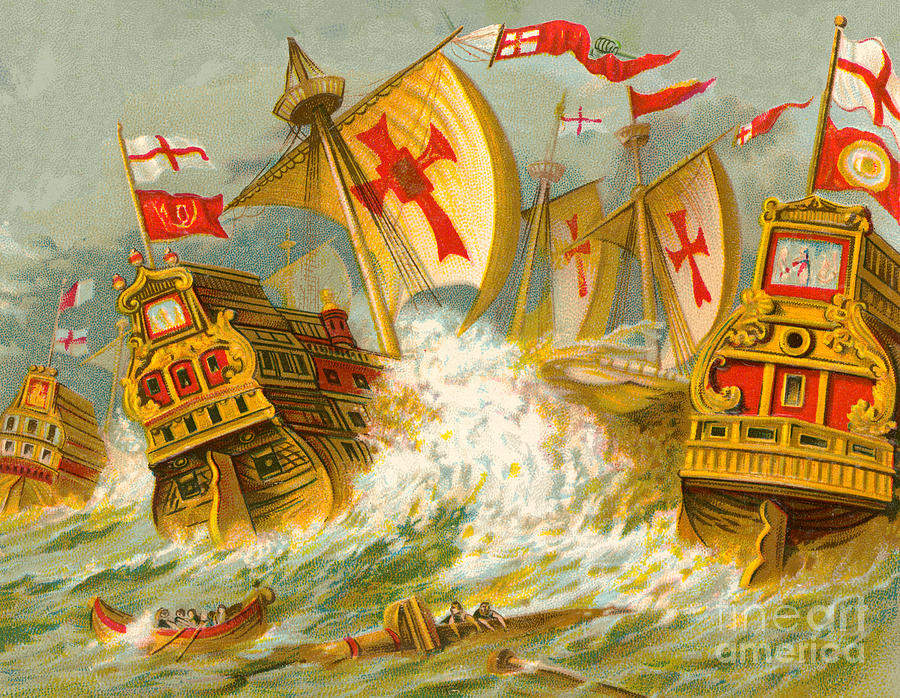 Visual Description:  Armada sailing away.
NLNIE  =  LINEN,  MAFER  =  FRAME,  BGLOEG  =  BOGGLE,  TSOCEL  =  CLOSET   —   Giving us:  INNFAEGGLECLET
Clue/Question:  When the Royal Navy ships were spotted sailing by, people caught a – – –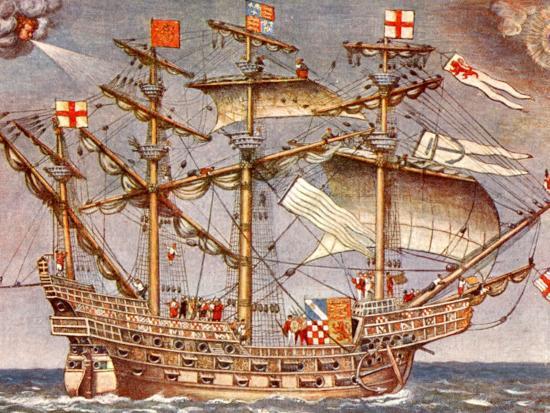 Answer:  FLEETING GLANCE
(Weird coincidence.  Maybe just to me.  Last night's "Wheel of Fortune" bonus round, category Phrase, was:  "I CAUGHT A GLIMPSE".  Glance and Glimpse are both brief, or momentary, looks.  Of course the pun part from today's Jumble answer is FLEETING, but I see the parallels.  It also would have been right around this time, in 1588, that the English Navy defeated the Spanish Armada.
No new clue words today.  Three of the jumbles appear to be new though.  I'm certain that we've seen the jumble "mafer" before.  The final answer layout was a fantastic fourteen letter jumble.  It was tremendously cryptic.  The cartoon's dialog and the end of the clue/question were the big clues.
I always enjoy Jeff's historical cartoons!  Perhaps one of these gents is King Philip II of Spain.  The hulking galleons were basically huge troop ships, as Spain was intending on invading England.  The English navy's ships were smaller and more maneuverable.  They could hit and run, and the galleons were sitting ducks.  I like the twist on the classic sinking sailboat on the horizon!  In this case it's a sinking galleon.  Lots of fun.  Be well and do good, friends.)   —   YUR
Images courtesy of Google