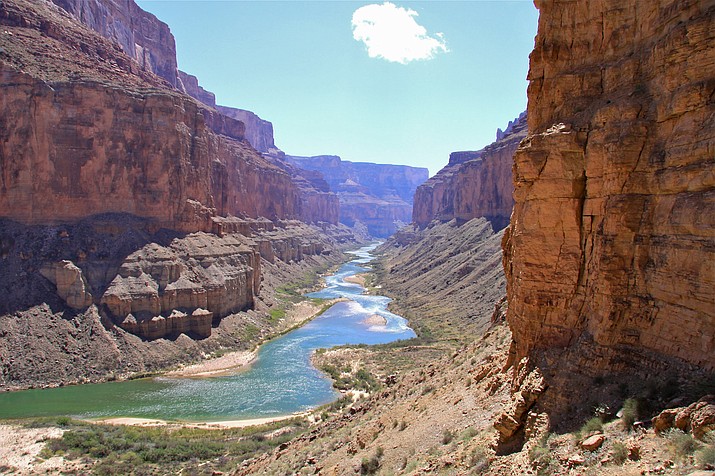 Visual Description:  From the depths!
VONEW  =  WOVEN,  TIDOT  =  DITTO,  GJLGUE  =  JUGGLE,  ARNWRO  =  NARROW   —   Giving us:  WODTOGLENW
Clue/Question:  They took a guided tour of the Grand Canyon so they could – – –
Answer:  GET THE LOWDOWN
(And, NOT to be mistaken for the DOWNLOW, which means to keep secret, and which may – or may not – be a single compound word.  LOWDOWN is information, which is what the hikers/visitors were seeking.  I'm only providing the obvious for those who might have thought it was DOWNLOW.  Some of today's youngsters aren't always familiar with our old school jargon.
While not exactly from the Neogene period – like when the Grand Canyon started to form – none of today's clue words are new.  Three of the jumbles arose as new, for me, but "tidot" definitely has to be considered an older jumble.  The answer letter layout was a tough ten letter jumble.  I probably could have struggled to get the final answer the way it was, because I did figure on GET.  But, I wrote out the consonants and the vowels in alpha order again, and it seemed to make solving it easier.
Great cartoon of folks at the bottom of the Grand Canyon.  Ranger Bob really seems to know his stuff!  If you look very closely at the upper left-hand portion of the cartoon you'll see both people on foot, and people on either horseback, or mule/donkeyback, coming down the trail.  It's all – barely – legible, with the aide of a magnifying glass.  Thanks, Jeff!  Great Jumble.  Be well and do good, friends.)   —   YUR
Images courtesy of Google