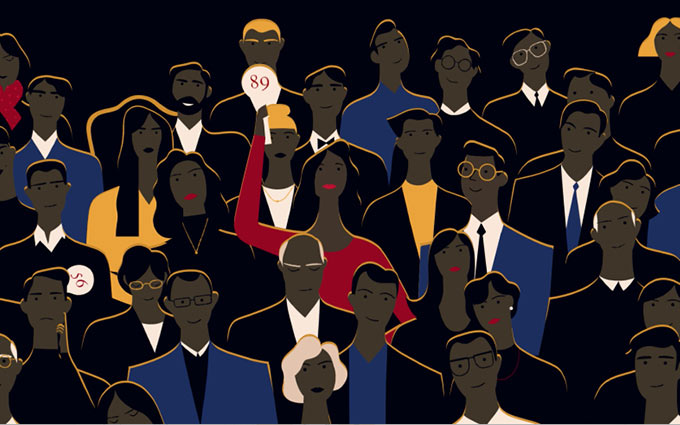 Visual Description:  Celebrity auction.
AQRTU  =  QUART,  LYSET  =  STYLE,  SOCOYH  =  CHOOSY,  WESNRT  =  STREWN   —   Giving us:  RTTYHOOEWN
Clue/Question:  Einstein's handwritten memos sold for $1.8 million because they were – – –
Answer:  NOTEWORTHY
(Excellent, stinky pun!  I just shake my head when I hear about some of the prices they get at some of these auctions.  Not being one for magical/superstitious thinking, I think it's kind of a sad commentary on our society when someone shells out this kind of money for mundane items just because they came from the hand of someone famous and . . . iconic.  These kind of things belong on display in museums.  And, I doubt they would pay that much for them.
Surprisingly, we have a new clue word today, in "quart"!  It will soon enter the world famous ralis95 clue word database as the lead-in to quartz!  Three of the jumbles appear to be new, but we've definitely seen "lyset" before.  None of the jumbles tripped me up.  The answer letter layout was a nifty ten letter jumble.  For whatever reason, I saw WORTHY first,  and then saw the full answer.
Fine auction scene cartoon.  Apparently, there were two handwritten notes, given to a bellboy as a tip, in Japan, way back in 1922.  They were auctioned off in Israel in 2017, one for $1.56 million, and the other for $250 thousand.  Nothing scientific, or profound.  Just some words of wisdom: "Where there is a will, there is a way." and "A calm and modest life brings more happiness than the pursuit of success combined with constant restlessness."  I guess three generations later that bellboy's family got a nice reward for holding onto them!  Be well and do good, friends.)   —   YUR
Images courtesy of Google