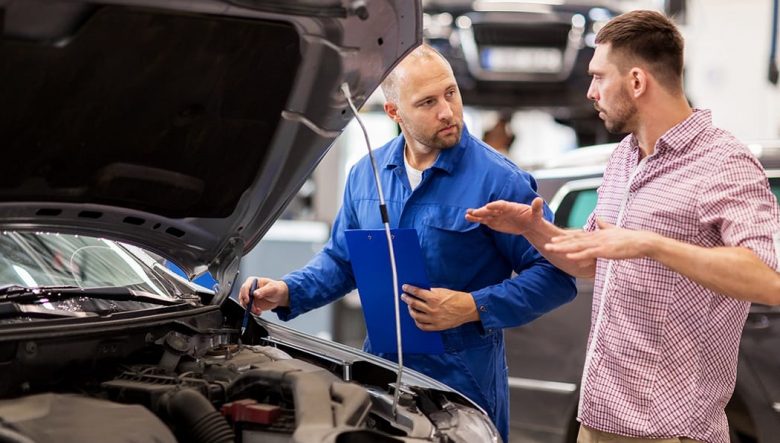 Visual Description:  Playing things by ear.
ALGRI  =  AGILE,  BROTI  =  ORBIT,  XTCEEI  =  EXCITE,  FONETS  =  SOFTEN   —   Giving us:  AGIOIEXTFTN
Clue/Question:  In order to pinpoint the problem, the auto mechanic needed to – – –
Answer:  GET A FIX ON IT
(Awesome Jumble!  Wonderfully stinky pun!  Those plug-in diagnostic things are great for some/many things.  But, some guys just seem to have an ear for these things.  They're like old school general practitioners.  They know what everything is supposed to look, sound and feel like.  I hope trade schools are still teaching young mechanics the fundamentals, and not relying solely on those diagnostic crutches.  I know that dental hygienists still need to learn how to use the basic tools.  Because of the COVID-19, they are not allowed to use those hydro-sonic plaque blasters.  Getting scraped by the scalpel thing was a trip.  It felt like had stepped back in time!
No new clue words today.  Three of the jumbles appear to be new, but Hoyt has definitely used "broti" before.  I had a little trouble getting "agile".  But, thankfully, I didn't have to back into it.  Three of the clue words started with vowels today.  The answer letter layout was a remarkable eleven letter jumble.  Hopefully, the length of the five final answer slots were a hint to you, like they were to me.
Fun auto mechanic's garage cartoon.  The older guy is like the car whisperer.  He just lets the engine speak to him.  Hopefully, the younger guy will learn from the master.  Be well and do good, friends.)   —   YUR
Images courtesy of Google