Visual Description:  Not exactly my kinda brew.
ETLYS  =  STYLE,  XMMAI  =  MAXIM,  RMHEPA  =  HAMPER,  OTTPIE  =  TIPTOE   —   Giving us:  STEAXERTPE
Clue/Question:  She sold Earl Grey, Oolong, Darjeeling, etc.  Her customers really enjoyed her – – –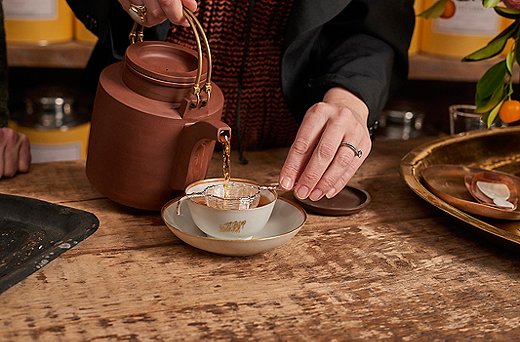 Answer:  "EXPERT–TEAS"
(Kind of a trendy Jumble pun.  Lots of folks are into teas these days.  Even I have actually taken up drinking green tea.  I like green tea with lemon, or green tea with mint.  I was drinking mainly Bigelow Tea, because it's a New York favorite, and it's relatively cheap.  But I really prefer when I can catch a sale on Twinings Tea.  It's a smoother/less harsh brand of tea.  I guess I have to hand it to the Brits, when it comes to tea.  As a matter of fact, they're also very good with my favorite brews . . . beer and ale!
All familiar old clue words today.  And yet, all of their jumbles are coming up as new.  The only one that I had to look at twice was "ottpie".  Those compound words always kind of freak me out a little.  The answer letter layout was a tender ten letter jumble.  Sufficiently cryptic.  The final answer slots, with the quotation marks and the hyphen, made for a quick solve.
Fun little tearoom scene cartoon.  I know that some people REALLY take their teas seriously.  Store bought teas, in a bag, just won't do.  They have to get actual tea leaves, and use those strainer things.  That's just too much work for yer uncle.  When I was a kid I used to love the Red Rose Tea commercials.  They used to use chimpanzees in them.  They were hilarious!  Aah!  Simpler times.  Be well and do good, friends.)   —   YUR
Images courtesy of Google
Happy birthday to Aimee Mann, formerly of 'Til Tuesday!