Visual Description:  Home security installation.
NOYME  =  MONEY,  DLAAS  =  SALAD,  AFUIRN  =  UNFAIR,  KACYRN  =  CRANKY   —   Giving us:  MOESLAUFARCRA
Clue/Question:  There'd been some burglaries in their neighborhood, which was – – –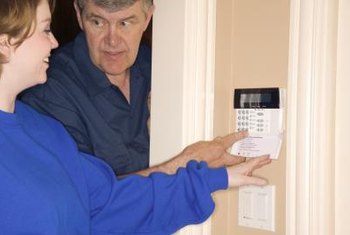 Answer:  CAUSE FOR ALARM
(Not really all that stinky of a pun, but definitely a challenging final answer, for me at least.  It was more of a literal/figurative pun.  Hey!  Did you know that the Brits don't like some contractions that use 'd?  At least WordPress doesn't like them.  "There'd" keeps coming up as a misspelling!  Silly Limeys.
All of today's clue words are familiar old friends.  I guess Hoyt is giving ralis95 a little break.  Three of the jumbles came up as new, though we've definitely seen "noyme" sometime in the past.  The only one I struggled a little with was "afuirn".  As you know, I'm not a big fan of the UN words, so it's probably a minor mental block for me.  The answer letter layout was a marvelously cryptic thirteen letter jumble.  Definitely not obvious.  It had me going for a while.  I played around with something OUR FEARS, but couldn't do anything with MLACA.  But there was enough there for me to see that ALARM would be the last word, and the rest fell into place.
Nice cartoon of an older couple and the alarm installer.  I mean, facially they look it, but the dead giveaway that they're older is the newspaper!  The younger generations think newspapers are archaic.  They don't see any value in them.  Maybe if they ran out of toilet paper they'd have a better appreciation for them?  Anyway, I think we've seen two challenging Jumbles in a row.  Be well and do good, friends.)   —   YUR
Images courtesy of Google