Visual Description:  Upstairs clip joint.
AUPIOT  =  UTOPIA,  CELOAL  =  LOCALE,  CNATAV  =  VACANT,  SFNUIO  =  FUSION,  DBTGEU  =  BUDGET,  CRUIHN  =  URCHIN   —   Giving us:  TAAEVTUSOBERC
Clue/Question:  To him, the barber one floor up from the mattress store was – – –
Pre-Answer:  Five Words  (1-letter)  (3-letters)  (5-letters)  THE  (4-letters)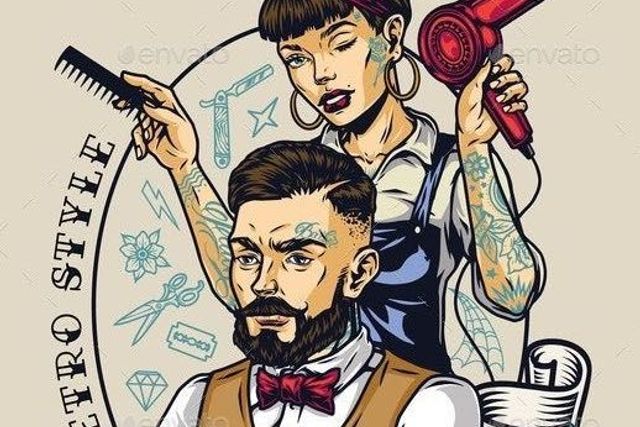 Answer:  A CUT ABOVE THE REST
(I would call this Jumble answer one of the rare double puns!  Maybe even a triple!  Hey, you'd be getting a hair-cut, and because it's one floor up it's automatically above something, and that it's above a mattress store goes to the rest!  One of the most original, and entertaining, Jumbles in quite a while.  Whether it was from the mind of our pal, David L. Hoyt, or from a reader's suggestion, someone deserves a round of applause! 
Every single clue word is already on the ralis95 clue word database.  However, all six jumbles are coming up as new, for me.  The only one I struggled with was "cruihn".  I inadvertently backed into it, as I saw the final answer from the first eleven letters, and knew I needed the R and C.  I knew that it wasn't UNRICH!  The answer letter layout was a tremendous thirteen letter jumble.  Terrifically cryptic.  The layout of the final answer slots cued me into things.
Fine urban scene cartoon of two friends chatting, outside of the shops.  Gotta love the barber pole and the names of the two shops:  Sleep Tight and Shave-Shampoo.  A very fine Sunday Jumble all around!  Be well and do good, friends.)   —   YUR
Images courtesy of Google