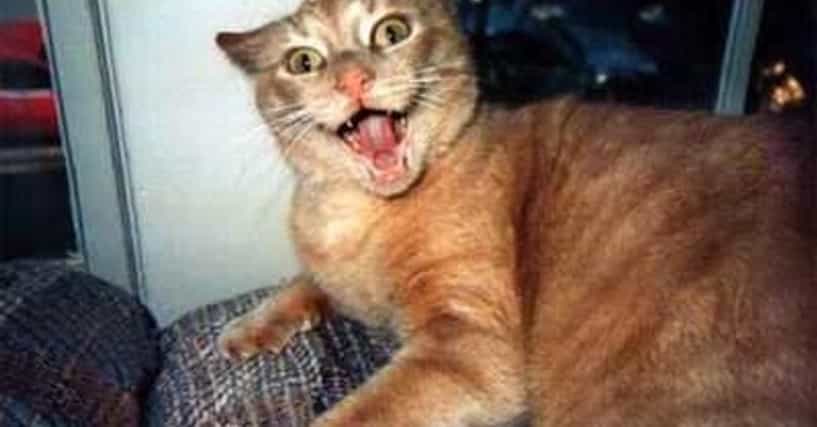 Visual Description:  Cat scratch fever!
SACEE  =  CEASE,  DGYID  =  GIDDY,  SOLTEC  =  CLOSET,  SMOUTT  =  UTMOST   —   Giving us:  CEAIDDSETTMOS
Clue/Question:  The overly sloppy and destructive house cat was – – –
Answer:  "DOMESSTICATED"
(I'm thinking the intent with this one was for hyphens to go between DO and MESS and TICATED, but someone decided that that would make the final answer too long.  This gag is actually more ironic than punny.  This cat looks positively feral, and the furthest from domesticated.  I don't think that this cat belongs in any apartment, or house.  Some people think you can easily tame a feral cat!  Good luck with that!  Once they outgrow the kitten stage they are as wild as any lynx, or bobcat, or cougar.  One of my buddies has a bunch of house cats, and he has a box on his porch for some feral cats that he, and his wife, feed.  They've learned, from experience, that never the twain shall meet!
All four clue words should be very familiar to all of us.  It's definitely been a while since we've seen "giddy" though.  Two of the jumbles appear to be new, but we have seen both "sacee" and "soltec" in previous Jumbles.  None of them tripped me up today.  The answer letter layout was a thrilling thirteen letter jumble.  I thought it was ferociously cryptic.  I don't think the quotation marks were really much of a help though.
Fun cartoon of the fierce feral cat destroying this couple's apartment.  I had to print out the Jumble from my online newspaper, so the detail is a little off, but it looks like this puddy has trashed the blinds, broken a vase, opened a table drawer, shredded a pillow, and is working on clawing the crap out of their couch.  With the look in that cat's eyes, I would not try to go to sleep with that hellspawn in the room!  Just leave the door open, folks.  Be well and do good, friends.)   —   YUR
Images courtesy of Google
PS.  On this date in 1868 historian/sociologist/writer W.E.B. Du Bois was born!  In 1929 12X All-Star and 6X World Series Champion catcher Elston Howard was born.  And in 1965 Constance Baker Motley was elected Manhattan Borough President!  At that time that was the highest elective office held by a black woman in a major U.S. city.  Celebrate Black History Month!   —   YUR