Visual Description:  Shapes on a Plane.
RRHYU  =  HURRY,  DIUOA  =  AUDIO,  NUSIEW  =  UNWISE,  CAAEDF  =  FACADE   —   Giving us:  RRUOUSFE
Clue/Question:  When asked if he was certain his right angles were 90 degrees, the square said – – –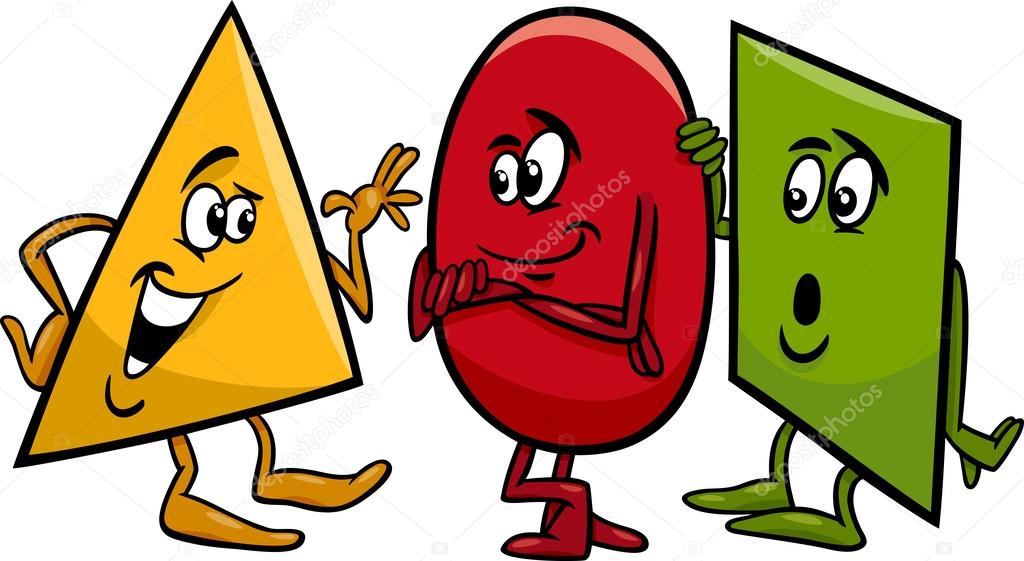 Answer:  "FOUR" SURE
(A stinky pun . . . fer sure, dudes and dudettes!  This Jumble would be valuable in teaching children about geometric shapes and angles.  This pun would have also worked for the rectangle.  But in comedy, certain words are always – supposedly – funnier.  Like when someone intentionally calls a chimpanzee a monkey.  It doesn't matter that it is cladistically incorrect.  Monkey is the funnier word.  But for this Jumble, square is both shorter to write, and to draw.
Yes, all of today's clue words are on the ralis95 clue word database.  Three of the jumbles appear to be new.  However, we have seen the jumble "caaedf" in a previous Jumble.  I still don't like the UN words, but I saw "unwise", and the others, immediately.  The answer letter layout was an elite eight letter jumble.  Nothing obvious about it.  The quotation marks were the big clue, for me.
Another fine anthropomorphic shapes cartoon.  Much like the numbers ones, the characters exist on some kind of graphic plane.  Kind of like living in the matrix!  My old analog brain struggles with all this digital stuff.  Be well and do good, friends.)   —   YUR
PS.  On this date in 1804 the state of Ne Jersey began to abolish slavery.  But slavery continued in the state right up until the Civil War!  1851 Black abolitionists raided a Boston court to rescue a fugitive slave!  In 1964, Louis Armstrong's "Hello Dolly" became his first number one record.  On this day in 1965, Nat King Cole died. (apparently NOT on the 14th!  The internet cannot be trusted completely.)  And on this day in 1968 Henry Lewis became the first African American conductor of a major American orchestra, with the New Jersey Symphony.  Celebrate Black History, folks!   —   YUR
Images courtesy of Google