Visual Description:  A Lockhorns Valentines Day.
GVILI  =  VIGIL,  DPNAA  =  PANDA,  LYWOLE  =  YELLOW,  PIDEEM  =  IMPEDE   —   Giving us:  VLNDAYLOIME
Clue/Question:  Even when the couple argued, it was clear that they were – – –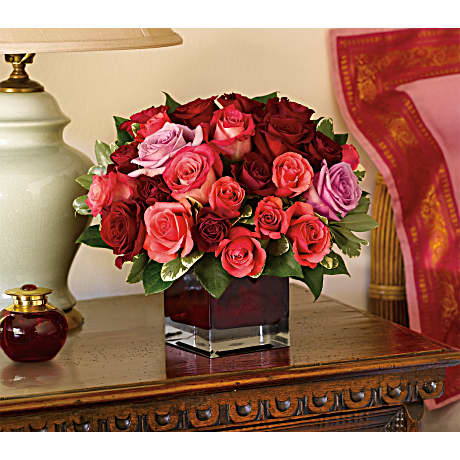 Answer:  MADLY IN LOVE
(. . . with the Jumble!  Today's Jumble is a mash-up of The Lockhorns and "Mad About You".  My newspaper does not carry The Lockhorns, but I fondly remember the single panel comic *strip*.  Leroy the lovable? lush, and Loretta the stereotypical lousy driver and lousy cook, have been locking horns for many years.  They argue about absolutely everything.  I think I actually know a couple like them.
We've seen all four clue words before.  Two of the jumbles appear to be new, but I can say with certainty that we've seen both "gvili" and "lywole" in previous Jumbles.  It took me a few looks to see "yellow"!  The answer letter layout was an elusive eleven letter jumble.  I thought it was wonderfully cryptic.  If it wasn't for today being Valentine's Day, I might not have seen IN LOVE.  The DAYLM gave me the pun.
Great cartoon of the middle-aged + couple, meeting up at the kitchen table, on Valentine's morning.  I've been going out of my way NOT being my grouchy self today.  I figure the least I can do is give up one day of the year!  Hey!  Does anyone remember the other bickering couples comic strip, The Better Half?  It was a slightly tamer version of The Lockhorns.  I used to read that as a kid.  I hope all of you have a Happy Valentine's Day!  Be well and do good, friends.)   —   YUR
PS.  On this day, in 1818 – unofficially – Frederick Douglass was born on a plantation in Talbot County, MD.  In 1867 Morehouse College organized in Augusta, GA.  In 1946 dancer/actor Gregory Hines was born in New York City.  And in 1965 the great singer Nat King Cole died in his sleep, from lung cancer.  Celebrate Black History!   —   YUR
Images courtesy of Google