Visual Description:  The scales of injustice.
RDIGN  =  GRIND,  KORCO  =  CROOK,  WPREET  =  PEWTER,  GUEOHN  =  ENOUGH   —   Giving us:  GIOOWTEGH
Clue/Question:  When he started eating better and exercising to lose pounds, she said – – –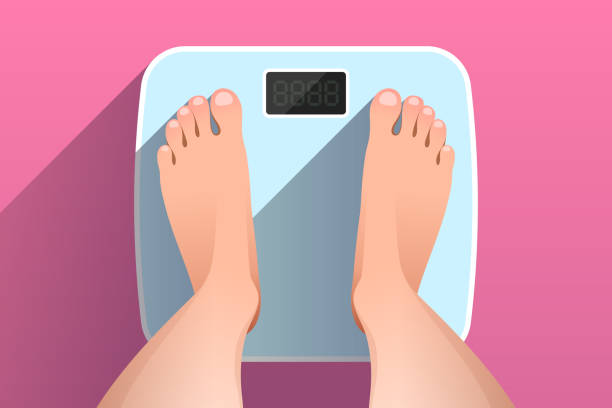 Answer:  "WEIGH" TO GO
(Ah, the battle of the bulge!  The scourge of middle age!  About 42% of Americans have obesity.  According to Healthline.com:  "more than two-thirds of U.S. adults in the United States are overweight or have obesity."  Even yer dear old Uncle was clinically obese, for a time.  Folks always said that I carried it well though.  Folks lie!  My over abundance of poundage resulted in multiple flare ups of sciatica, arthroscopic surgeries of both knees, high blood pressure, and type II diabetes.  Oh, and snoring!  But since dropping the lb.s everything has been copacetic.  A number of tropical island nations have higher rates of obesity – because hey, why not – but the U.S. leads all of the developed nations in obesity!  USA!  USA!  USA!  Surprisingly, Italy and Switzerland have just a little over half of the obese folks that the U.S. has.  It's politically correct to state that genetics, certain medications and economic and social factors also come into play, but it's hard to deny that the intake – vs. the expenditure – of calories is the largest component of the problem of obesity.
It's been a while since we've seen any of today's clue words.  Especially "pewter".  And I don't think we've seen "crook" since the Trump administration!  All of today's jumbles are coming up as new, for me.  The answer letter layout was another nifty nine letter jumble.  Quite nebulous.  But the cartoon's dialog, the clue/question, and the quotation marks in the final answer slots made for a quick solve.
Great domestic bathroom scene cartoon!  I liked the drip coming off the shower head, and the wife's thumbs up!  It's always nice to have a supportive spouse.  Dieting/losing weight can be much harder when you're left to your own devices.  Keep up the good work, pudgy!  Eventually, your body will thank you for it.  Be well and do good, friends.)   —   YUR
Images courtesy of Google
PS.  On this day in 1945 Bob Marley was born!  And in 1950 Natalie Cole was born.  In 1867 Robert Tanner Jackson became the first African American to earn a degree in dentistry.  And in 1967 Muhammad Ali beat Ernie Terrell, winning back the WBA heavyweight belt that had been stripped from him in 1964.  Celebrate Black History!   —   YUR