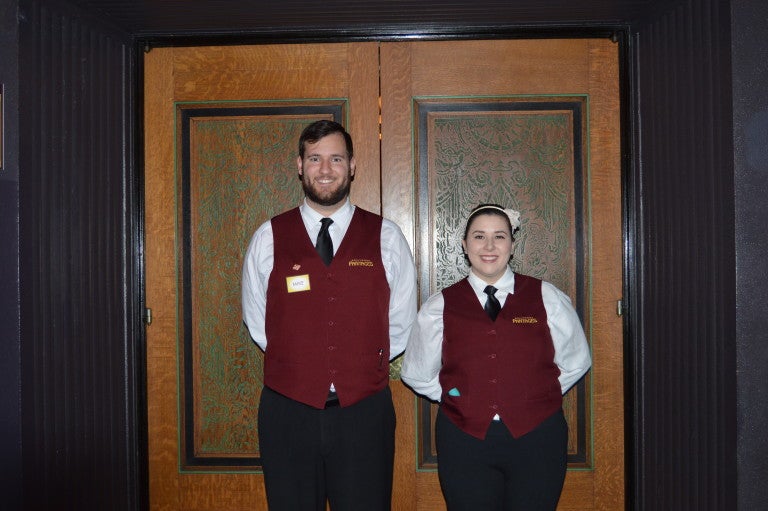 Visual Description:  Hoyt and Knurek, At The Movies!
NAROP  =  APRON,  PDHET  =  DEPTH,  DULYOC  =  CLOUDY,  SEERJT  =  JESTER   —   Giving us:  APRDEHCODJTE
Clue/Question:  They sold more movie tickets at the theater than they – – – 
Answer:  HAD PROJECTED
(Oooh!  A real stinker of a pun.  This one would be rated
on Rotten Tomatoes!  I definitely cannot remember this answer being used before.  And that is such a relief.  I'm so tired of sequels and pre-quels, with all their fabricated "backstories"!  A little originality, for a change, is very refreshing.
All of today's clue words were remakes from older Jumbles.  Yet, we're seeing a whole new cast of jumbles!  None of them had any real "depth", but they got the job done.  The answer letter layout was a twisty twelve letter jumble.  Nothing predictable about it.  I checked off HAD right away.  From the remaining PRECODJTE the word PROJECTED came into view.
Great cartoon of ushers at the multi-plex!  I think that might be our friend Angela in the audience.  She has always fancied herself as the Jumble's biggest fan.  I wonder if the boys comped her tickets?  Save me some popcorn, Ange!  Lots of fun today.  Be well and do good, friends.)   —   YUR
Images courtesy of Google