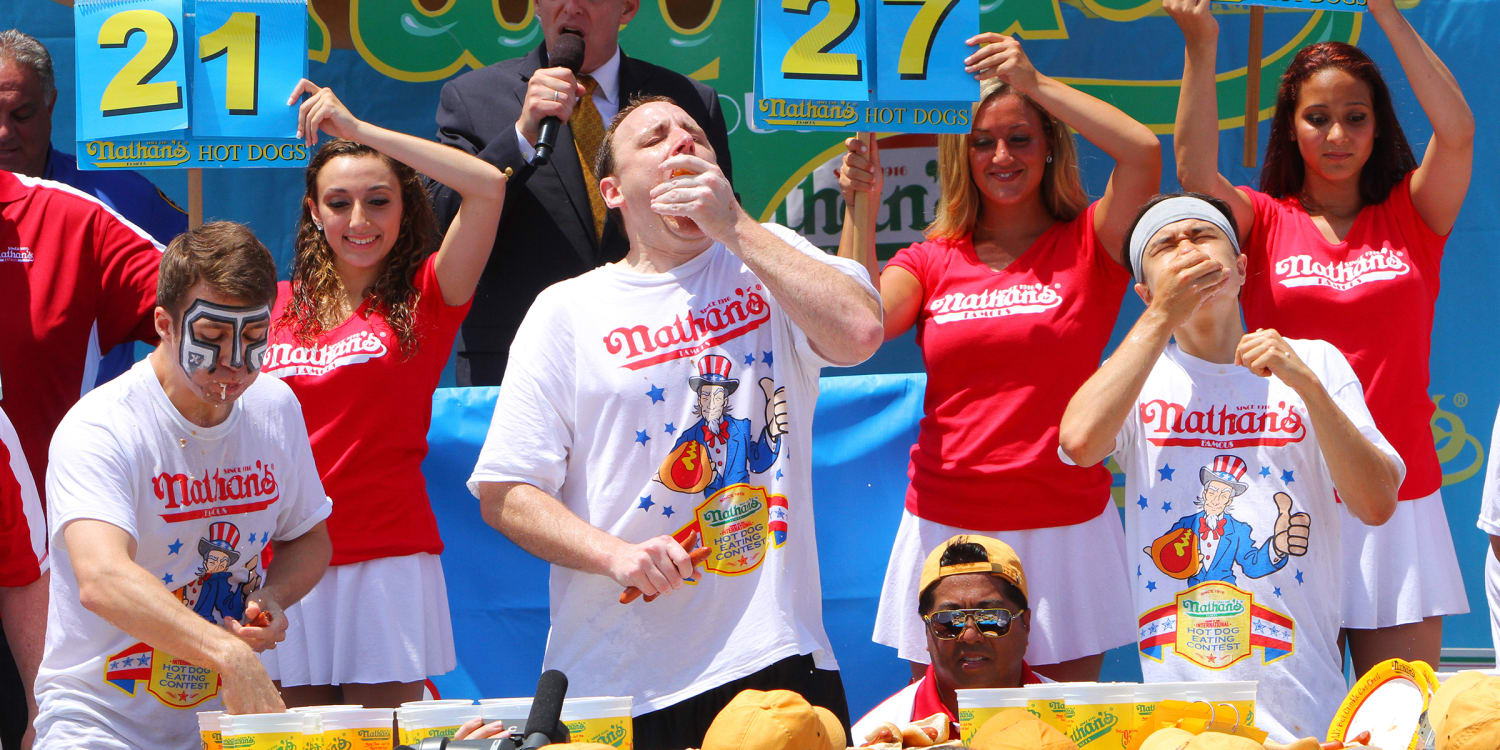 Visual Description:  The world's grossest "sporting" event.
WRILS  =  SWIRL,  TULEF  =  FLUTE,  VORENG  =  GOVERN,  DGREUT  =  TRUDGE   —   Giving us:  SWIFLEGRNTUE
Clue/Question:  He couldn't finish the hot dog eating contest because he was – – –
Answer:  FEELING THE "WURST"
(I like it!  Great Jumble pun!  And, I don't blame the poor guy.  These hot dog eating contests are kind of like the human version of watching a giant python eating a capybara.  They're horrific and disgusting, but they certainly draw your attention.  It's fascinating that any human being could possibly consume that amount of food, in that short amount of time.  And, the size of the person has no bearing on the feat.  I don't know if genetics come into play, or if it's more a matter of training your throat and stomach.  All I know is that there's no way that I could ever do that.  Growing up, one of the running family jokes was that I was THE slowest eater!  I'm a very deliberate eater.
All of today's clue words are on the ralis95 clue word database.  Only one of the jumbles is coming up as new.  But we've definitely seen "tulef", "voreng" and "dgreut" in previous Jumbles.  The answer letter layout was a tremendous twelve letter jumble.  Very cryptic.  I had to write out the consonants, and then the vowels, in alphabetical order before I was able to see the WURST.  And, of course the quotation marks were a big help.  The FGLNEEI gave me FEELING.
Great cartoon from today's guest cartoonist, Johnny Sampson!  It has been ages since I last picked up a copy of MAD Magazine.  I wasn't even sure they were still publishing it.  I'm almost positive that Johnny wasn't drawing for them the last time last time I bought a copy.  But he did a great job!  Be well and do good, friends.)   —   YUR
Images courtesy of Google