Visual Description:  Woolly Bully?
CUYYK  =  YUCKY,  KANKC  =  KNACK,  TAACLU  =  ACTUAL,  DMEEYL  =  MEDLEY   —   Giving us:  YYKKATAEY
Clue/Question:  The shaggy-haired ox learned how to speak and was now a – – –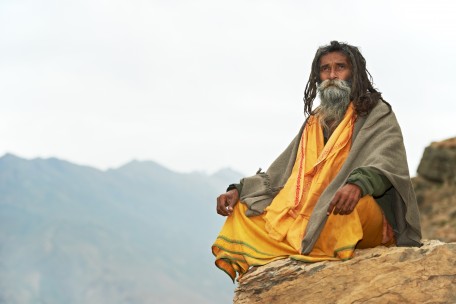 Answer:  YAKETY–YAK
(Don't talk back!  A very fun, silly Saturday Jumble pun!  Yes, I know that there were/are two distinct songs, but there is a slight connection.  Right?  A yak is a woolly bull.  And, they were both novelty songs from my youth. I'm pretty sure "Yakety Yak" was earlier, as The Coasters were mainly a '50s group.  I think Sam The Sham& The Pharaohs' "Woolly Bully" was some time in the '60s.  Both very fun songs!
We've seen all of today's clue words before.  Three of the jumbles are coming up as new, for me.  But we've definitely seen "cuyyk" previously.  Ironically, it took me a few looks to see "actual".  I know I say actually a lot!  The answer letter layout was a nifty nine letter jumble.  But I doubt very many struggled to get the final answer.  The clue/question set it up perfectly.
Cute cartoon of the yak and the wise man, somewhere up in the Himalayan Mountains.  I'm a little surprised that Jeff didn't convey the yak's hairiness better.  To me, it looked pretty much like a regular bull.  A little chunky maybe.  Regardless, it didn't take away from the gag.  Be well and do good, friends.)   —   YUR
Images courtesy of Google