Visual Description:  Deep sea diver.
TNAHK  =  THANK,  VOHCA  =  HAVOC,  DUTIME  =  TEDIUM,  RFIBOD  =  FORBID   —   Giving us:  THAHAOTDMFOR
Clue/Question:  James Cameron reached the Pacific's deepest point on his own, which is – – –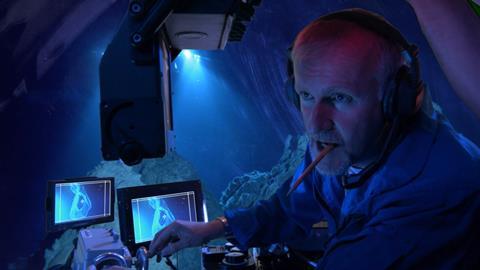 Answer:  HARD TO FATHOM
(Was it difficult for you folks to get to the bottom of this final answer?  It's kind of funny that FATHOM has two meanings.  One being a verb – as in this Jumble – understanding, or getting to the bottom of something.  And, the other being a noun, as a unit of length, used mainly in measuring the depth of water.  They're supposed to be roughly six feet, so 35,000 feet would equal over 5,833 fathoms!  Any way you look at this Jumble . . . it's very deep.
All four clue words are members of the ralis95 clue word database.  In looking them up, I noticed that the word THANKS is NOT in the database!  I know Hoyt does not allow plural words ending in S, but THANK is a verb, while THANKS is a noun.  And, no other word can be made from the letters AHKNST, so this should be one of those rare exceptions, and should qualify it as a six letter Jumble word.  I'm accepting your THANKS in advance, cuz!  Three of the jumbles are coming up as new, for me.  But it seems they've used "dutime" before.  The answer letter layout was a twistical twelve letter jumble.  Beautifully cryptic, and nothing obvious about it.
Cool cartoon of the undersea lecture.  Many people have said that the deepest parts of the ocean resemble outer-space.  It's pitch-black, and anything that moves around looks kinda like an alien!  Kinda creepy, but cool, if you ask me.  Be well and do good, friends.)   —   YUR
Images courtesy of Google